Press release
Yacht 'Trina' found following mayday broadcast
A man whose yacht had broken down was found by the RNLI Berwick Lifeboat just after midnight on Sunday 25 May.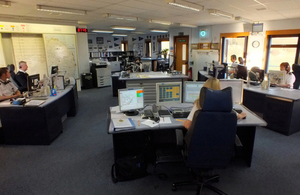 Humber Coastguard was alerted by Mayday emergency call on 25 May at 12.30 am by the yacht 'Trina'. The yacht was in difficulty 5 miles South East of Berwick Upon Tweed. There was one man on board with no reported injuries. His yacht had lost his navigation system and was partially swamped.
Humber Coastguard requested the RNLI Berwick Lifeboat to attend the scene. The ship 'Prudence' also in the area assisted the lifeboat in locating the yacht. The lifeboat then escorted the 'Trina' back to Berwick.
Graham Dawson, Humber Coastguard Watch Manager said,
The skipper of the yacht 'Trina' had lost his navigation system and let off a number of emergency flares to help us locate him. Unfortunately in doing so he had set fire to his lifejacket which resulted in him having to remove it. It is always important to check your position and re-check it. We also recommend that you join and keep up to date the voluntary CG66 safety identification scheme. Finally tell someone where you are going and when you expect to return.
Maritime and Coastguard Agency press office
Press enquiries 020381 72222 (Monday to Friday, 9am-5pm)
Outside these hours, for emergency press enquiries only please dial the above number. You will hear a message giving details of how to contact the on call press officer.
Published 27 May 2014