X Factor contestants honour British Service personnel
Contestants on the X Factor TV programme have released a charity single to promote awareness of and raise money for injured Service personnel, some of whom they met at Headley Court last week. Report by Leigh Hamilton.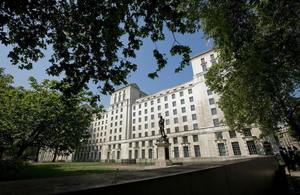 This is the second year that proceeds from an X Factor single will be donated to the Help for Heroes charity, which works to support injured UK Service personnel, and sees perhaps the beginning of a tradition by one of the nation's most popular TV programmes to support Britain's Armed Forces.
This year's single, sung by all the show's 16 finalists, is a version of David Bowie's 1977 song 'Heroes'.
The first performance of the single took place on the X Factor results show on Sunday 21 November 2010 and members of the Armed Forces who have been treated at the Defence Medical Rehabilitation Centre at Headley Court were in the audience to watch the show, including Lance Corporal Lewis Montague of The Black Watch, 3rd Battalion The Royal Regiment of Scotland, who said:
I was in Afghanistan and I was in a RTA [road traffic accident]. A car landed on my head. I was in a coma for 12 days, paralysed and couldn't talk. They said I'd never walk. I'm still in rehab and I'm hoping to deploy next year. My voice is the main reason I won't, so there's a lot of work to do. I'm still wobbly on my legs too. I died in the ambulance twice.
LCpl Montague explained how much he appreciates the release of the X Factor single:
It's amazing," he said. "The morale that it provides for the lads as well as the awareness for the public, it's a real lift. Everyone's excited and we're all looking forward to it. The money it pulls in will be an amazing benefit. It's really good.
A video was also shown during the show which featured an interview with Lance Corporal Matthew Wilson from 2nd Battalion The Rifles who has benefited from the Help for Heroes charity. He said:
I was injured last year in June in southern Afghanistan by an IED and lost my left leg and severely damaged my left arm, but I've managed to do quite a good recovery. It's gone really well to be honest.

I spent eight weeks in Selly Oak Hospital and then did 12 months at Headley Court to get myself back fighting fit. The rehab is really hard work, but you get out of it what you put into it basically. The centre itself is brilliant. The care, the physios are great.
On the support he's received from Help for Heroes and his appearance on the X Factor, LCpl Wilson said:
They are such an amazing charity, not just for the charitable work, but for getting the whole country to rally in support of the troops as well as the over £80m that they've raised now to put towards helping people.

If you'd told me 12 months ago that I'd be sitting here having done a video for the X Factor I would have laughed at you!
As well as meeting the troops present at Sunday's show, some of the X Factor contestants visited Headley Court earlier in the week where they met injured Service personnel including Warrant Officer Class 2 Ken Bellringer from 11 Explosive Ordnance Disposal (EOD) Regiment, Royal Logistic Corps. He said:
I was in Afghanistan on HERRICK 10 going into HERRICK 11 and I was an EOD operator responsible for rendering safe improvised explosive devices. On this one particular occasion I dealt with a single explosive device, found a couple more, and needed to get my team somewhere safe. One of my guys had got stuck and as I went to pull him out there was an almighty explosion. Unfortunately he was killed and I lost my legs and full use of my hands.

Everything just slows down massively. I knew I was in the air and I knew it was going to hurt when I landed; I knew what had happened straight away as I had dealt with so many explosive device explosions. I knew my legs had gone missing and I just had my eyes tightly shut.

I just remember thinking 'I hope the lads come and find me. I hope they don't leave me here'. I was blacking in and out. This was on November 15th and I didn't wake up until the 23rd of December.
Of his rehabilitation at Headley Court WO2 Bellringer said:
The rehab has been hard, especially on my family. I'm married and I've got two young kids and it's been particularly hard on them just trying to live their lives while still coming to visit me and all the worry that's associated with. As far as the treatment goes, when I was in Selly Oak things went quite well and I had a few operations.

There have been major improvements in Headley Court. My hands are damaged, I lost my thumbs in the explosion, so we're just trying to get the ball rolling and it will take up to five years to get me fully rehabilitated.
On the X Factor charity single, one of the show's judges, music mogul Louis Walsh, said:
It was Simon's [Cowell] idea. It's a great song and it's a good thing to do. They're great people; I just met some of them inside and it's a brilliant idea and it's a brilliant song as well. I think we'll be number one!
Favourite to win the show, X Factor contestant Matt Cardle, said:
It's so important to do it because the guys are out there risking life and limb for their country. It's a great song choice and we're all just so happy and honoured to be involved in it. It's very emotional - it's a very special song.

We went down to Headley Court and the work that goes on there is just incredible. The guys and girls out in Afghanistan are absolutely the real heroes. The work they do puts things into perspective and when you see these people and the positivity that they have it is just amazing.
Liam Payne from boyband One Direction, the show's only surviving group, said:
We're on a TV show and they're putting their lives on the line. We feel scared to go out on stage in front of millions of people but I'm sure that none of us could even step foot in these guys' treads, so it's pretty amazing.
We met loads of guys at Headley Court, but the people who really struck me were the guys of my age who were injured soldiers. It was a weird way to think of it; they're my age doing things like that and fair play to them because I don't think any of us lads could do it. They're such brave people, made of strong stuff.
X Factor singer Katie Waissel added:
It's such a massive deal and I'm so appreciative to be a part of this and so excited to be a part of it. For me, I'm hoping that this is the beginning of a beautiful journey with the charity. I'd love to and can't wait to do so much more with Help for Heroes.

I think the guys are incredible and they're such wonderfully spirited people and meeting them puts things into perspective 110 per cent. It puts life into perspective. They are the true heroes, they're real heroes.
The single 'Heroes' by the X Factor finalists is out now.
Published 26 November 2010