Press release
WWII scientist's Nobel Prize medal risks leaving UK
Sir Hans Krebs' Nobel Prize Medal has had a temporary export bar placed on it by Culture Minister Ed Vaizey.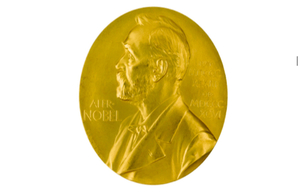 A Nobel Prize awarded to one of the greatest British scientists of the 20th century is at risk of leaving the UK unless a buyer can be found to match the asking price of £275,000 (plus VAT of £10,000).
To provide an opportunity to save it for the nation, Culture Minister Ed Vaizey has placed a temporary export bar on Sir Hans Krebs' Nobel Prize Medal and Citation.
Sir Hans was a Jewish refugee who fled to Britain in 1933 to escape the rise of Nazism in his native Germany. He was awarded the Nobel Prize in 1953 for his discovery of the citric acid cycle, also known as the Krebs Cycle, that converts food into energy.
Much of Krebs' research was conducted in the UK where he also contributed to the Allied war effort by assisting Government research on nutrition. He most notably helped to develop the National Wheatmeal Loaf - supplemented with calcium and vitamins - which was introduced during Second World War rationing. .
Culture Minister Ed Vaizey said:
Sir Hans Krebs made an invaluable impact on British science after he was welcomed into the country during the rise of Nazism. This Nobel Prize medal represents not only his scientific research, but the significant contribution that refugees made to post-War Britain. I hope that the temporary export bar I have put in place will result in a UK buyer coming forward to save the Nobel Prize medal for the nation.
Culture Minister Ed Vaizey took the decision to defer granting an export licence for the Nobel Prize medal and citation following a recommendation by the Reviewing Committee on the Export of Works of Art and Objects of Cultural Interest (RCEWA), administered by Arts Council England. The RCEWA made their recommendation on the Nobel Prize medal and citation on the grounds of its close association with our history and national life.
RCEWA Member Peter Barber said:
Hans Krebs' Nobel Prize medal is a tangible acknowledgement of the international importance of his most significant achievement, an achievement that would have been impossible had he remained in Nazi Germany. It thus stands as a symbol for the benefits brought to mankind by many of the Jewish refugees who fled to this country from Central Europe in the 1930s and as a tribute to Britain's generosity in taking them in and in some cases providing the facilities to continue their work.
The decision on the export licence application for the medal and citation will be deferred for a period ending on 17th March 2016 inclusive. This period may be extended until 17th May 2016 inclusive if a serious intention to raise funds to purchase the medal and citation is made at the recommended price of £275,000 (plus VAT of £10,000).
An image of the Nobel Prize medal can be downloaded here
Published 18 December 2015