Written Ministerial Statement on Marine Conservation Zones
Environment Minister Richard Benyon today made the following Written Ministerial Statement: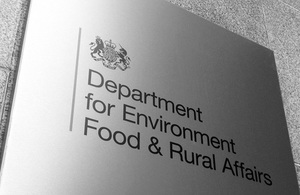 Environment Minister Richard Benyon today made the following Written Ministerial Statement:
As part of the Government's commitment to implementing in full the provisions of the Marine and Coastal Access Act, we are creating a network of national protected areas in British seas to ensure our underwater wildlife flourishes in years to come. We are clear that looking after the wildlife and habitat in our seas is just as important as looking after those on land.
The Government's first step to identifying new Marine Conservation Zones (MCZs) in English waters was taken forward through four regional MCZ projects managed by the Statutory Nature Conservation Bodies, who are Natural England and the Joint Nature Conservation Committee. The regional projects provided their recommendations for proposed sites for MCZs on 8 September. These have been reviewed by the independent Science Advisory Panel (SAP) and their advice to the SNCBs and Defra is being published today on Defra's website.
The Marine and Coastal Access Act requires the establishment of a network of conservation sites in the UK marine area.  In English waters the network will comprise European Marine Sites, Sites of Special Scientific Interest, sites designated under the Ramsar Convention and Marine Conservation Zones (MCZs).  The Act requires that the network must conserve or improve the UK marine environment and protect a range of representative features.
The regional MCZ projects have done excellent work in bringing stakeholders together and making site recommendations, but it is clear from the SAP's advice that there are a number of gaps and limitations in the scientific evidence base supporting the MCZ recommendations.
It is important that we get this right.   It is vital that we have an adequate evidence base for every site if we are to create successful well-managed MCZs.  An adequately robust evidence base will be essential when we come to implement management measures.
Defra will therefore be commissioning significant additional work to support MCZ designation including an in depth review of the evidence base for all the regional projects' site recommendations and committing additional resources to carrying out seabed and habitat monitoring.
Protecting our marine environment is essential and the Government remains fully committed to establishing MCZs to contribute to an ecologically coherent UK network. However, the need to strengthen the evidence base for the MCZ recommendations means this is going to take longer than the ambitious target first put forward.   We are likely to be able to designate some MCZs fairly quickly where the supporting evidence is adequate.  However, for others we anticipate that more investigation will be needed before they can progress towards designation.  
Natural England and the Joint Nature Conservation Committee will provide the MCZ impact assessment and their formal advice in July 2012.  This is six months later than previously planned and this revised timetable will  enable them to address the recommendations from the Independent Review of the Evidence Process for Selecting Marine Special Areas of Conservation (published July 2011) and take account of any further evidence obtained from the work that Defra is now commissioning.   We will give careful consideration to all the advice received before undertaking formal public consultation on MCZs by the end of 2012.   This consultation will include all sites recommended by the Regional Projects with clarity on how and when work on them will be taken forward. It is envisaged that  the first MCZ  designations will take place  in 2013.
Defra and delivery partners will work together ensuring that early management measures are put in place to provide effective  levels of protection for designated sites and continuing to build the evidence base for future designations. Defra will also take the opportunity, working with stakeholders and SNCBs, to look at other marine features which may benefit from spatial protection.
This phased approach to designation will also allow more scope to shape the English network taking account of sites being considered by the  devolved administrations and neighbouring Member States.
Published 15 November 2011