News story
Written Ministerial Statement on Foreign Office public records
Minister for Europe David Lidington has updated parliament about progress on making a collection of colonial administration files available to the public.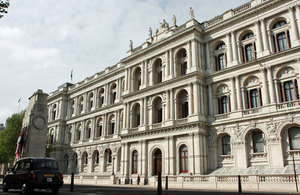 Foreign Office Minister David Lidington said:
On 5 December 2011, I informed the House of our plans to make a large collection of colonial administration files available to the public over a 2 year period (Official Record column 6WS)
We have today made the fourth tranche of files available for the public to view at The National Archives (TNA) at Kew. This marks the half way point. I am pleased to confirm that we remain on track to complete the transfer of the entire collection of files to TNA by the end of 2013 as per the schedule published on the FCO website. As promised, we have kept redactions to an absolute minimum. I am very grateful to the Independent Reviewer, Professor Anthony Badger, for overseeing this work with such care and commitment.
It remains the case that the FCO is still unable to confirm the existence or destruction of 170 boxes of Top Secret colonial administration files known to have been returned to the UK. There is some evidence that the Singapore Top Secret colonial administration files were destroyed as part of a review of FCO post files in the 1990s. The FCO continues to search for these files or for further evidence of their destruction.
The work on the colonial files has, regrettably, caused a short-term backlog in the regular annual transfer of some FCO departmental files from 1981 and 1982. Additional staff resource has been allocated to tackle this. We will publish on the FCO website a timetable to transfer the remaining 1981 and 1982 files between 2013 and 2015.
In his statement to the House on 5 May 2011 (Official Report, column 24WS), my Right Honourable Friend the Foreign Secretary undertook to implement in full the recommendations of the Cary review into the colonial administration files. These included an up to date inventory of the FCO's archival holdings. This has brought to light a large accumulation of other material outside the FCO departmental file series, much of which is over 30 years old and therefore overdue for review. The FCO has not identified any colonial administration files amongst these papers beyond those currently being transferred. In keeping with this Government's commitment to transparency, we will be publishing a copy of the high level inventory of these "Special Collections" on the FCO website. We remain fully committed both to complying with our public records obligations and to doing so with maximum transparency.
Notes to editors
Published 30 November 2012