Written ministerial statement by Greg Barker: PQ correction
I would like to inform the House that a written answer I gave on 26 November 2012, Official Report col 45W to the hon. Member for Walsall North…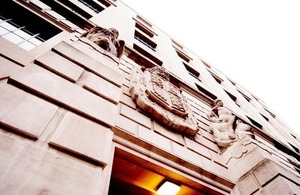 I would like to inform the House that a written answer I gave on 26 November 2012, Official Report col 45W to the hon. Member for Walsall North was incorrect. The hon. Member asked when the Secretary of State plans to respond to the letter from the hon. Member for Walsall North of 15 October 2012 on behalf of a constituent.
The response stated that a reply had been sent on 21 November 2012. This was incorrect, due to an administrative error.  The correct response should have been that the reply was signed by Gregory Barker on 6 December 2012.
The substance of the information contained within that letter is as follows:
The insulation industry has a very important role in the delivery of both the Green Deal and ECO in the future, building on the success already achieved in recent years of improving the energy efficiency of huge numbers of properties. However, we are at a point of transition, and there are certain changes which seem to me inevitable and necessary.
In the first place, the nature of the insulation challenge is changing. By the end of the year over 65 per cent of lofts will be fully insulated, with only very small numbers left with no insulation at all. It is therefore inevitable that the number of loft insulations being delivered will fall and that the number of jobs in the loft industry will naturally decline. By contrast, we have as a nation barely begun to tackle our un-insulated solid wall properties and as we focus more on this challenge, we can expect the overall number of jobs in the insulation industry to increase significantly under the Green Deal and ECO, rising on our estimates to between 27,000-42,000 next year, and 39,000-60,000 by 2015.
We are also, in the current economic climate, faced with tough choices about how and where to spend money which is ultimately gathered from all energy consumers. It must be targeted where it is needed most. ECO, therefore, is intended to support harder to treat, more expensive measures, such as solid wall insulation, and to provide support for the poorest and most vulnerable households. The loft and cavity insulation industry has benefitted from support from schemes like EEC and CERT for many years, with the costs borne by bill payers, and once individual consumers have a mechanism (which they will do in the Green Deal) to allow them to pay for these cost-effective measures themselves, I believe there is far less need to continue supporting these measures.
That said, we have listened carefully to industry concerns about potential cliff edges in the number of loft and cavity wall insulation jobs. We have made a number of important changes to support the transition from CERT and CESP to Green Deal and ECO. We have:
Made sure far more cavities are eligible for ECO support than our original consultation proposals, by including around 3 million hard to treat cavities as eligible;
Made sure more lofts are eligible for support by defining broad low income areas where ECO can fund loft insulation, and by allowing ECO to support loft insulation when delivered in packages;
Ensured that it is now possible for companies to carry forward over-achievement of CERT and CESP towards their ECO targets, where the work carried out would also qualify under ECO;
Provided £2m of support, through the Sector Skills Council, for training and retraining of insulation installers towards the new solid wall insulation market; and
In addition to the actions taken by DECC, Ofgem issued a letter on 21 September which outlined their approach to compliance for the CERT/CESP schemes. This included their intention to take into account if energy companies have taken mitigating actions, such as continuing to progress delivery against any missed targets once the scheme has closed on 31 December. This means that the insulation industry will continue to benefit from measures delivered under CERT/CESP alongside those delivered under ECO for the first part of 2013.
The revised ECO Order, now titled the 'Energy Companies Obligation', was laid before Parliament on Tuesday 30 October and is available to view from the following link: http://www.legislation.gov.uk/ukdsi/2012/9780111530276/contents. ECO will come into force from 1 January 2013, but also includes a provision allowing activity from 1 October 2012 to count towards energy suppliers' eventual ECO targets.
Most of the Green Deal framework came into force on 1 October 2012, and Government is introducing the Green Deal through supporting a responsible and controlled approach with full national systems testing. This is to ensure the market has the opportunity to build over the next 18 months, meeting Government's ambition for a national energy efficiency retrofit across the next decade and beyond.
To support demand for the Green Deal, we are giving £12 million of funding to seven major cities across the country who are well advanced in their plans to deliver the Green Deal. The money will support 'demonstrator' projects to trial key aspects of the Green Deal and support future Green Deal activity in these 'Core Cities'. Activity includes Green Deal assessments, loan arrangements to fund work and show homes to provide local examples of what can be achieved. Around 2,500 properties across all tenures could benefit. Building on this, we are offering other Local Authorities in England the opportunity to bid for £10 million of funding to support early delivery of, and promote future demand for, the Green Deal. The 'Pioneer Places' competition is part of a broader £40m competition aimed at driving local initiatives to boost energy efficiency, reduce fuel poverty and encourage collective switching and purchasing.
On 19 October, we further announced a 'cash back' offer, designed to incentivise consumers to take up the Green Deal. It will be available from 28 January 2013 to all consumers in England and Wales who make a financial contribution to the installation costs of energy efficiency measures under Green Deal, whether or not they take out Green Deal Finance. Loft insulation (including top up) and insulating cavity walls (where appropriate) are important, basic energy saving measures. So where a Green Deal assessment recommends these alongside other improvements, householders will only be able to get the cash back if they do those too.
Financial support, through Green Deal finance, will also be available from 28 January 2013 to support Green Deal plans. Whilst our position is that Green Deal finance should (as befits a market mechanism) be primarily delivered through the private sector, we strongly recognise the importance of ensuring that finance is widely available to providers including SMEs. We have taken some key steps in recent weeks in support of Green Deal finance which should give confidence to the market. These include a loan to The Green Deal Finance Company that has enabled it to proceed with critical implementation work for a large scale financing vehicle. In addition, we announced on 8th August that DECC and HM Treasury are considering whether the Green Deal could be an early candidate for the use of infrastructure guarantees, with a view to enabling the delivery of low cost finance. The Green Deal remains an early priority for the Green Investment Bank.
 
On a related matter, I would like to take the opportunity to tell you about the Government's Energy Saving Advice Service (ESAS). If any of your constituents would like to find out what consumer offers are available to them, they can use this phone service by telephoning 0300 123 1234 (noting that calls are charged at national rates and are free if transferred to the Warm Front helpline). ESAS provides advice on how to reduce bills and make homes more energy efficient Details can also be found at www.gov.uk/energyhelp.
 
Published 10 December 2012