Wounded soldier first to benefit from new bionic arm
A 23-year-old soldier who lost his arm during a fire fight with insurgents in southern Afghanistan has become the first military amputee to receive a prosthesis with new technology that could bring hope to hundreds of forces personnel who have lost limbs in the line of duty. Report by Claire Sadler.
Corporal Andrew Garthwaite is a regular visitor to the new Queen Elizabeth and Selly Oak Hospitals in Birmingham. Last September, the 23-year-old of the Queen's Royal Lancers was involved in an operation to disrupt the insurgency in Nad 'Ali. A fire fight broke out and Cpl Garthwaite lost his right arm in a rocket-propelled grenade attack that killed another soldier:
When I first got here, I was at the new Birmingham Queen Elizabeth Hospital, I was sat there thinking, 'Oh God, this is it - I can't ride my bike again - I can't do this…' I was thinking of everything that I couldn't do," said Cpl Garthwaite.
But, two weeks ago, he was fitted with an advanced new bionic arm; the first in the British Armed Forces to benefit from the new technology.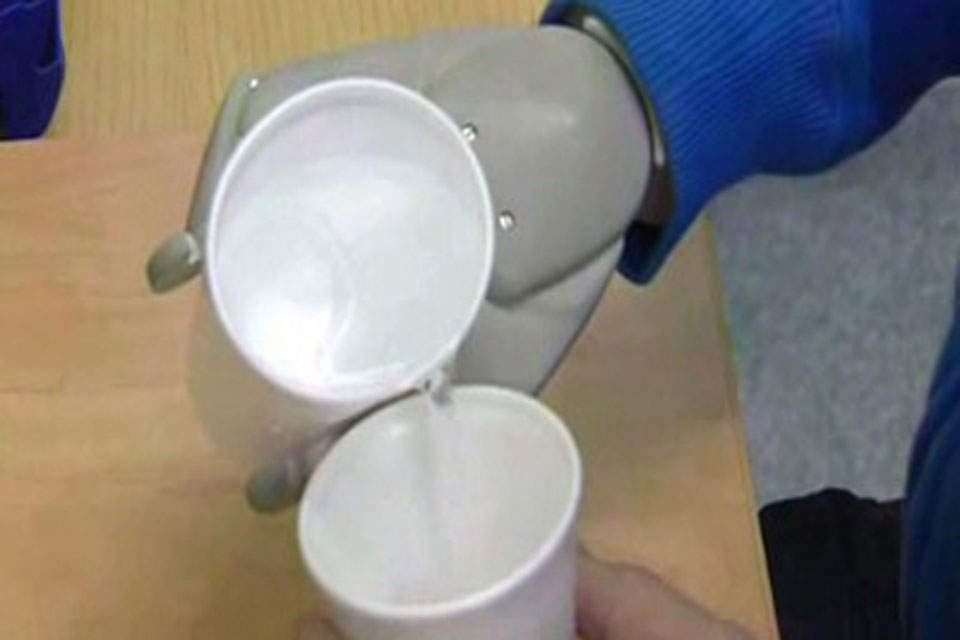 Through the flexing of his pectoral muscles, his back muscles, or a combination of the two, Cpl Garthwaite is able to pick up or put down objects, and switch the mechanical action to bend at the elbow or be able to open and close the hand of his new bionic arm.
It only took Cpl Garthwaite half-an-hour to get to grips with how to operate the prosthesis:
At Headley Court, in physiotherapy, they were teaching us how to pick up a glass and pour the water into a glass," he said. "Then they'd make us pick up an egg, and if I'd grab the egg too hard it would splatter, then you'd learn your lesson!
This isn't the end of the line for Cpl Garthwaite and his bionic arm. He is hoping to be one of the first in the UK to have targeted nerve re-innervation; a cutting-edge operation that will be carried out in Vienna:
The nerves from here [pointing to his shoulder] get pulled into my chest, and then it's way beyond my medical science what they're gonna do next, but what I've heard is it [the relocated nerve supply] will go into your muscle, and your pec[toral] muscle can do five different movements which will hit different pads on the plate [bionic arm controller] on your chest and it will make your arm work.
Cpl Garthwaite has accepted that he won't see front line action again, and says he is 'gutted', but he hopes to stay in the Army. For now though, his sights are set firmly on recovery.
This report by Claire Sadler was first broadcast on BFBS (British Forces Broadcasting Service) News on Sunday 20 February 2011. You can watch the full video report on the BFBS website at Related Links.
Published 21 February 2011