Wounded officer speaks on behalf of injured troops
Two years ago his leg was shattered by a Taliban bullet. While recovering, Colonel David Richmond has been speaking out on behalf of all wounded soldiers. Report by Sharon Kean.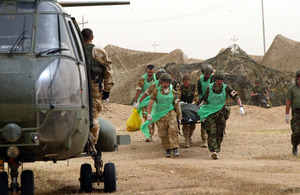 When Colonel David Richmond stood up to address a room filled with suits and uniforms at last year's MOD welfare conference, few could have been prepared for the emotional account that would follow.
The former Commanding Officer of 5th Battalion The Royal Regiment of Scotland spoke candidly of the day he was seriously wounded in Afghanistan and the long and painful recovery that ensued:
Being injured is a frightening thing," he said at the time. "You enter into a new era of your life and you don't know what will happen next.
Colonel Richmond was shot in the thigh by a single bullet from a Taliban AK-47. It shattered his femur, and, more than two years later, his leg is still fitted with a metal frame supporting the bone as it painfully grows back.
His public criticism of compensation for those injured while serving led to him joining the committee supporting a thorough review of the Armed Forces Compensation Scheme:
I think the unique position of being a relatively senior officer and a casualty gave me an insight the committee otherwise would not have had," said Colonel Richmond. "I have an understanding of the emotions you go through, the challenges and the frustrations.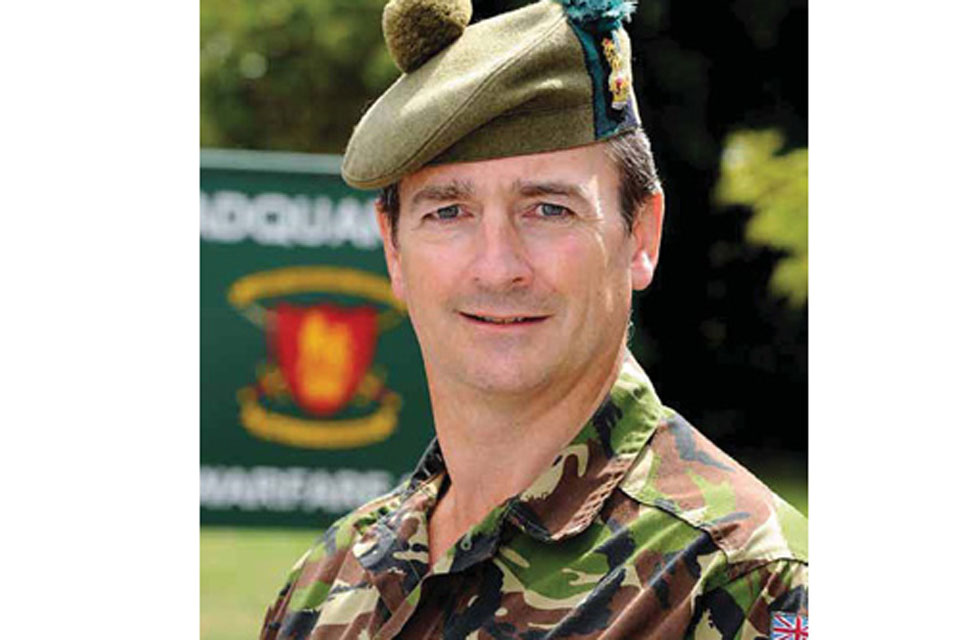 Colonel Richmond not only has first-hand experience of the journey from battlefield to home, via numerous hospitals, but he has met many others who have had similar experiences:
At Headley Court [the military rehabilitation centre] I have fairly frank discussions about their thoughts, fears and concerns. That has been very useful for the review," he said.

I knew they were unhappy that, under the old scheme, if you had two broken legs you'd get the complete money for one broken leg and a discounted amount for the second. Often we're not talking about simple breaks; we're talking about legs in bits. That sense of injustice was what I was trying to convey.
Colonel Richmond's strong personal views also influenced consideration of the process of submitting claims:
The burden shouldn't be on the claimant to make the claim, to pursue it and then worry about it," he said. "That person has probably got a million other things to worry about. He could be blind or only have one limb.

Individuals are vulnerable at that time. You need this system as a crutch, supporting you, not something you've got to chase and to fight.
He describes the scheme as 'much better' following the review, and he praises improvements made to the assessment of those with multiple injuries, such as those wounded by improvised explosive devices in Afghanistan:
Many significant improvements were made, which is important because so many of these fellows have life-changing injuries.
The Colonel is still concerned about the impact serious injuries have on the families of servicemen and women:
Welfare care for families at Selly Oak is outstanding but a complaint among some of the families is that, while the casualty is looked after so well at Headley Court and beyond, they feel like they've fallen off the end of the world when they leave," he said.

There might be 100 reasons for that but none of them are good. Families need a hand, and it's something we are becoming better at. The three Services, together with the Defence Medical Services are addressing this.
Colonel Richmond is continuing to use his experience to help improve care for injured soldiers as a member of the Interim Independent Medical Expert Group:
We are looking at the most appropriate levels of compensation for specific, particularly challenging, injuries that the current injury descriptors used by the scheme don't cover well," he explained.

Things like mental health, hearing loss, spinal cord injuries, paired limb or organ injuries. These injures are very serious at any age, but at 18 or 19 they can be dire. We're looking to bring together a package of compensation and opportunities that haven't been there before.
On the subject of mental health, he has this to say:
Some of the things we've asked young men to do and some of the things they've been involved in or suffered must have an emotional impact. Whether that is serious and long-term or just a temporary thing will vary from individual to individual.

The Services are much more aware of these issues than they ever have been, and we're doing the best we can given what we know at the minute.
Colonel Richmond's account of his experiences on being wounded is on the Help for Heroes website.
Fact file
The time soldiers have to apply for compensation has been increased from five to seven years;
The maximum bereavement grant payable to the relatives of deceased Service personnel has been raised to £20,000 for regulars and £37,500 for reservists;
The majority of awards for hearing loss will increase by one tariff.
More information on the scheme and applying for compensation can be obtained from the Service Personnel and Veterans Agency
Published 1 September 2010