Wounded Armed Forces to perform on West End stage
A group of wounded, injured and sick Service personnel are to write, produce and perform their own play for the West End thanks to a new project launched yesterday.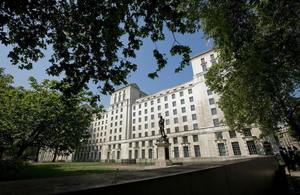 Bravo 22 Company will give two performances only of a new play based on their experiences in conflict and in recovery, entitled 'The Two Worlds of Charlie F', under the artistic auspices of leading theatre director Sir Trevor Nunn, with the support of actor Ray Winstone as the company's ambassador.
The aim of the project is to use a learning environment to aid the recovery of wounded, injured and sick Service personnel. The project will introduce the Service personnel involved to leading theatrical professionals and will give early Service leavers career opportunities in the theatrical industry.
The project has been put together with the help of the Theatre Royal Haymarket Masterclass Trust and the Royal British Legion, working in partnership with the Army Recovery Capability and Royal Navy Recovery Pathway.
Ray Winstone said:
Amazing. Stunning. A got-to-do idea!
The Legion's National President, Lieutenant General Sir John Kiszely, said:
The Bravo 22 Company is an extraordinary project bringing together an exceptional group of individuals, whom I have no doubt will reap great benefits from this opportunity as facilitated by the Theatre Royal Haymarket Masterclass Trust.
"The project is an exciting addition to the Legion's support for the recovery of injured Armed Forces personnel, and our care for their families."
Arnold M Crook, Trustee of Masterclass and Chairman of the Theatre Royal Haymarket, said:
Masterclass is delighted to be partnering the Royal British Legion and the MOD in our biggest project to date. The two performances of the Bravo 22 Company project, hosted by the Theatre Royal Haymarket in January next year, promise to be thoroughly rewarding for all concerned.
The performances will take place at the Theatre Royal Haymarket on Sunday 22 January 2012. Members of the company will participate directly in the creation, production and performance of the piece, giving them direct insight into the theatrical industry and helping to improve self-awareness, confidence and motivation to support their individual recovery, and in particular help those who are transitioning into civilian life.
The personnel who make up Bravo 22 Company range between 20 and 52 years of age and are currently on recovery programmes throughout Britain.
Published 23 November 2011