News story
Would-be illegal immigrants caught in Calais by Border Force
Vietnamese, Syrian and Afghan nationals found on lorries by officers at French port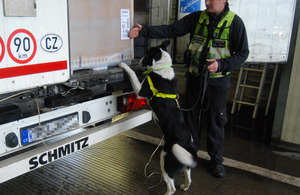 Sixteen would-be illegal immigrants have been prevented from entering the country after Border Force officers in Calais found them hiding inside lorries bound for the West Midlands and Surrey.
On 26 March at 8.15am, a sniffer dog indicated that there were people inside Bulgarian-registered lorry being driven by a Bulgarian driver. The vehicle, which was heading to Coleshill, Birmingham, was searched by officers who found 5 Vietnamese and 5 Syrian nationals concealed in the load of cat food.
Stowaways
Earlier the same day at 6.35am, 6 Afghans hidden in a Latvian-registered vehicle, driven by a Latvian national, were found by officers after a detection dog had indicated people were hidden among the load of household goods which was heading to Redhill, Surrey.
All of the stowaways were handed over to the French border police.
Paul Morgan, Director of Border Force South East & Europe, said:
Border Force officers work round the clock to keep the UK border secure.
These finds show why we base Border Force staff in France - to stop would-be illegal immigrants before they reach our shores.
Our strong presence in French ports like Calais and close collaboration with the French authorities helps protect the whole of the UK from people attempting to enter the country illegally.
As well as using sniffer dogs, officers also use heartbeat detectors, carbon dioxide probes and physical searches to find people hiding in vehicles.
A leaflet issued by Border Force, in partnership with the Serious Organised Crime Agency (SOCA), gives information and advice to lorry drivers transporting freight to and from the UK on how to prevent illegal immigration and avoid becoming victims of crime.
Published 10 April 2013