News story
First World War football match remembered at UK Embassies
From:

Part of:

Published:

6 December 2014
This was published under the 2010 to 2015 Conservative and Liberal Democrat coalition government
Foreign Office joins Football Association, British Council, Premier League and Football league in First World War commemoration.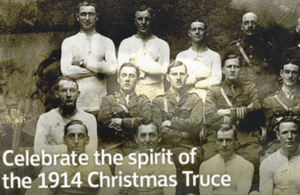 Staff at British Embassies, High Commissions and Consulates around the world are marking the 100th anniversary of the First World War Christmas Truce by hosting a series of football matches.
Working in partnership with the FA and the British Council, the matches over the course of the next week will form part of the Football Remembers campaign to commemorate the moment that British and German soldiers came together in 1914 and played football in no-man's land.
In addition to the football matches, education will be an important part the events so that young people around the world can learn more about one of the most iconic moments of the First World War and the powerful message it sends out about peace and reconciliation.
Some of the events taking place this week include:
Brazil: The British and German Consulates in Rio will play alongside players from the local community and the police to show football as a tool for promoting social inclusion and values such as fair play and respect.

Russia: In partnership with a local charity, the Embassy will host a football match between children from a Moscow orphanage and other local children.

Israel: The British Embassy in Tel Aviv will organise a football tournament involving 200 young players from Arab and Jewish communities.

Sri Lanka: Working in conjunction with Sri Lanka Unites programme to promote reconciliation, the High Commission will host football matches with around 50 youngsters and a multi-lingual carol service.

Ghana: A game will be played between teams made up of youngsters from broken homes, as part of a wider charity programme aimed at giving them hope and direction.
These are the latest in a series of events the Foreign and Commonwealth Office have held to highlight the global nature of the First World War and the scale of sacrifice of the many counties which took part.
Greg Dyke, Chairman of The FA, said:
I am delighted that staff at British Embassies, High Commissions and Consulates around the world will be joining in, making it a truly international commemoration of the Christmas Truce story.

It is fitting that football is playing its part in keeping alive this remarkable moment in history. No one should ever forget how soldiers from opposing sides put down their weapons to come together in no-man's land in the spirit of friendship. It is a powerful story that must continue to be told and my thanks go to everyone who is playing their part.
Alex Ellis, British Ambassador in Rio de Janeiro said:
The Christmas Truce story reminds us that sports can bring us together, even in terrible circumstances. The spirit of the game between German and British troops 100 years inspires the match which the British and German Consuls and consulates will play with local players and police in the Morro dos Prazeres community – a pacified favela in Rio de Janeiro.

Brazil has played a major part in demonstrating the value of sport in bringing the world together in the 2014 World Cup; as it will do again during the Olympics and Paralympics Games Rio 2016.
Tim Barrow, British Ambassador to Moscow said:
As we play football let us remember our shared histories and find inspiration from that moment of peace 100 years ago.
Images and videos from all the embassy events will be posted to the Football Remembers website and will feature on social media using the hashtag #FootballRemembers.
A full programme of events taking place at embassies is attached.
Football Remembers is being delivered jointly by the Premier League, The FA and the Football League, in partnership with the British Council, and will see a number of events taking place throughout December to commemorate the First World War.
As part of the Football Remembers project, more than 30,000 schools across the UK received a British Council education pack with resources to help children learn about the Truce – including eye-witness accounts, photos, drawings and letters from soldiers.
Further information
PDF, 285KB, 3 pages
This file may not be suitable for users of assistive technology. Request an accessible format.
If you use assistive technology (such as a screen reader) and need a version of this document in a more accessible format, please email webmaster@digital.fco.gov.uk. Please tell us what format you need. It will help us if you say what assistive technology you use.
Follow the Foreign Office on twitter @foreignoffice
Follow the Foreign Office on facebook and Google+
Document information
Published: 6 December 2014