World news story
World Refugee Day: European Union thanks Kenya for refugee hosting
European Union thanks Kenya for refugee hosting, urges respect for Human Rights and reinvigorated Tripartite process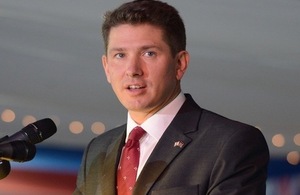 On the occasion of World Refugee Day at an event in Kakuma, conveying a message on behalf of the European Union, British High Commissioner, Dr Christian Turner, thanked the Government of Kenya for a long history of hosting refugees and providing protection to those fleeing persecution, conflict and other forms of insecurity.
Dr Turner said:
We share and support the Government of Kenya's desire for a sustainable solution to the refugee issue, and as such welcomed the signature of the Tripartite Agreement between Kenya, Somalia and UNHCR last year.
It is important that this process be reinvigorated and begin to develop a comprehensive road map which is acceptable to all.
The Tripartite Agreement establishes a legal framework and other support for Somali refugees in Kenya to return to their homeland under certain specified conditions. It defines the roles and responsibilities of the three parties in accordance with international standards.
The High Commissioner said he shared the Government's security concerns.
Referring to the events of Mpeketoni, he said that members of the European Union have been working with the Government to improve security. He urged security forces to conduct ongoing security operations professionally and ensure that human rights are respected. He also called urgently for the UNHCR to be given the access required to verify the status of refugees, asylum seekers and others being held in detention.
The message pledged to work to create the conditions for return in countries from which refugees originate, including Somalia.
The Tripartite Agreement signed on 10 November 2013 by the governments of Somalia and Kenya, and the United Nations High Commission for Refugees, can be found here
Published 26 June 2014