Foreign Secretary and International Development Secretary mark 10th World Refugee Day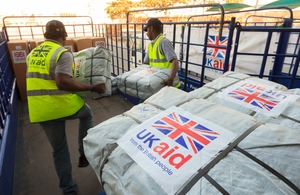 In a joint statement on the 10th World Refugee Day, the Foreign Secretary, William Hague and International Development Secretary, Andrew Mitchell said:
"Millions of refugees remain among the world's poorest and most vulnerable, a stark reminder of the real and harrowing effects that conflict and repression have on people's lives. With recent refugee movements in Libya, Cote d'Ivoire, Syria and Sudan, the need to offer protection to those caught up in violence or persecution, as set out in the 1951 Convention on the Status of Refugees, remains as relevant as ever.
"The UK has a proud tradition of offering refuge to those forced to flee their home country as well as tackling the conflict and abuses of human rights that cause refugee flows. We also strongly support international efforts to assist refugees, to find long term, durable ways in which they can return to safety. We pay tribute to the dedicated efforts of those UN agencies and international organisations, NGOs and local volunteer organisations who provide protection to, and assistance for refugees. We also commend those countries across the world that have, often for protracted periods, been generous hosts of refugee populations." 
The UK is among the largest contributors to the UN High Commissioner for Refugees (UNHCR), the UN Relief and Works Agency for Palestine Refugees in the Near East (UNRWA), and actively contributes to the work of humanitarian organisations helping to meet the needs and protect the rights of refugees, stateless people and those internally displaced within their own country.
The UK will continue to work in partnership with the UNHCR on the UKBA's Gateway Protection Programme, bringing up to 750 of the world's most vulnerable refugees to the UK each year.
2011 is the 60th anniversary of the 1951 Convention Relating to the Status of Refugees. The UK looks forwards to participating in the 60th anniversary commemorations planned by UNHCR for December 2011. We hope this will be an opportunity for the international community to reaffirm the Convention and its protocol as the foundation of the international refugee protection regime. 
Deputy Prime Minister Nick Clegg made a speech on 10 May 2011 to mark the 60th anniversary of the United Nations Convention Relating to the Status of Refugees and the formation of the Refugee Council in the UK.
Published 20 June 2011