News story
World-leading auctions for low carbon projects to begin in UK
The government is making an extra £25 million of funding available in world leading auctions for low carbon support, following high levels of demand for contracts.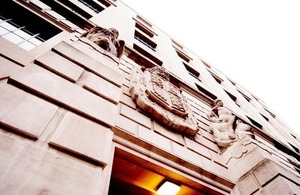 The auctions, which will start on 29 January, will see only the most competitive projects receive contracts – helping to drive down the cost of renewables support.
Projects are set to compete for £325 million in support from new Contracts for Difference (CFD) – an increase of £25 million from the budget published in October. This year's CFD budget is split between technology categories, enabling both established and less established technologies to access support.
The extra funding will increase the amount available for less established technologies, such as offshore wind and some biomass technologies, to £260 million. This will help to bring forward a diverse mix of low carbon energy supplies to help build a new generation of clean, reliable electricity supplies.
Energy and Climate Change Secretary Edward Davey said:
"We are transforming the UK's energy sector, dealing with a legacy of underinvestment to build a new generation of clean, secure power supplies that reduce our reliance on volatile foreign markets.
"The high demand for contracts shows that we're one of the top places for renewables investment, and the best place in the world for investing in offshore wind.
"Renewable electricity generation and investment have both more than doubled since 2010. We attracted a record breaking £10 billion worth of investment in 2014 and by making projects compete for support, we're ensuring consumers get the best possible deal as well as a secure and clean power sector."
Due to high levels of demand for contracts, projects will be required to compete for support. As a result, the contracts will deliver new capacity more cheaply than through the previous arrangements, resulting in lower bills. It's estimated that the reforms to the electricity markets will mean that average annual household electricity bills are around £41 lower over the period 2014 to 2030 than decarbonising without these changes.
Contracts for Difference, which provide long-term certainty for investors, are a cornerstone of the Government's reforms to the electricity markets, designed to drive investment in a new generation of clean, secure electricity supplies.
The projected spend of the budget remains within the Levy Control Framework, which caps the costs to consumers of government energy policies.
The budgets for next year's auction will be confirmed this autumn, but £50 million more has already been indicated for established technologies. Further funding is planned to be available for CFDs for renewables and carbon capture and storage in future years, rising to over £1 billion in 2020/21.
The increase comes after the budget was increased for both categories in October 2014 (an additional £15m for pot 1 for established technologies and an additional £80m for pot 2 for less established technologies).
This budget is in addition to the substantial amounts of support for low carbon already being spent under existing schemes (the Renewables Obligation and small scale Feed in Tariffs) as well as funding for the eight projects awarded Investment Contracts in April 2014 under the FID Enabling for Renewables process.
Notes to Editors
Within each pot we have now confirmed that technologies will compete against each other. Full details of the budget.
Pot 1 (established technologies, such as onshore wind and solar): £50m for projects commissioning from 2015/16, and an additional £15m (i.e. £65m in total) for projects commissioning from 2016/17 onwards.

Pot 2 (less established technologies, such as offshore wind and biomass CHP): £155m for projects commissioning from 2016/17 onwards, and an additional £105m (i.e. £260m in total) for projects commissioning from 2017/18 onwards. This demonstrates the government's commitment to helping these technologies become as competitive as the more established low carbon generation sources.

Pot 3 (biomass conversion): No budget released in this allocation round but this does not preclude budget being allocated to this pot in future rounds.
The projects that win the auction will receive 15 year contracts - meaning that the total spend per year for contracts allocated in the first allocation round will be up to £325m.
We are also publishing details of the non-delivery disincentive – a policy designed to reduce the risk of successful bidders failing to deliver their projects.
Figures from Bloomberg New Energy Finance show that clean energy investment in 2014 to have risen by 3% to just over £10bn. This is an annual record high in the Bloomberg series since 2004.
Published 28 January 2015