World news story
World Health Assembly, Geneva 20 - 28 May 2013
The UK and Sweden raise the profile of AMR (antimicrobial resistance) at a seminar today at the Palais des Nations, Geneva.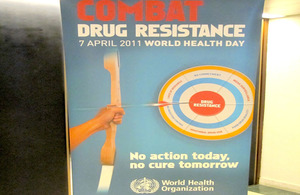 Professor Dame Sally Davies, UK Chief Medical Officer co-chairs AMR (antimicrobial resistance) event with Mr Göran Hägglund, the Swedish Minister for Health.
The side event at this year's World Health Assembly highlights the urgent need to deal with the growing problem of fewer medicines to treat increasing numbers of antibiotic-resistant infections.
Yesterday, on the opening day of the WHA, UK Health Secretary Jeremy Hunt said:
Antimicrobial resistance is a global problem. There are few public health issues of greater improtance. We need stronger international partnerships and coalitions so that the threat of AMR is fully recognised and the responsibility for reducing it is shared.
Published 21 May 2013