World 'dangerously unprepared' for future shocks
After a year of disasters, the UK urges more support for the international response system to make sure funding is fast and effective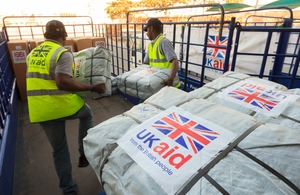 Some of the world's richest countries are failing to help prepare for large-scale disasters, such as earthquakes, floods and wars, despite clear evidence that the number of catastrophes is likely to increase in the years ahead, International Development Secretary Andrew Mitchell warned today.
Despite a year of unprecedented disasters - including famine in the Horn of Africa, the Japan tsunami, New Zealand earthquake, floods in Pakistan and most recently the Philippines - the United Nations' international disaster response funding system is expected to be left severely underfunded.
The system - set up following the 2004 Boxing Day Tsunami - is designed to bring different countries funding into one single pot that makes the international response faster and more effective.
Experts believe that a sufficiently supported, single approach, with a central fund and effective coordination by the UN will save many more lives in the hours and days after a shock hits. It will reduce the chaos, confusion and delays caused by dozens of countries and agencies responding to the same disaster independently.
Britain has announced £20 million support to the UN's Central Emergency Response Fund (CERF) for 2012. But many countries continue to wait until a disaster strikes before responding - leaving a £45 million ($70m USD) shortfall in life-saving assistance for next year that could leave many emergencies without adequate funding, especially in the first and most critical phase.
In 2004, the year of the Boxing Day Tsunami, around 150 million people were affected by humanitarian emergencies. That rose to 263 million last year. Experts predict that the number of floods, famines or other climate related disasters will continue to increase, affecting 375 million people every year by 2015.
Andrew Mitchell said:
This year the world has been rocked by devastating disasters and the evidence suggests this trend is likely to continue.

The past shows that international responses could have been more effective if they had been properly planned and coordinated as part of one single system instead of a patch-quilt approach we see all too often.

The system is in place but too many countries and agencies are failing to back it, leaving the world dangerously unprepared for the scale and number of shocks that lie ahead.

In those first critical hours when, for example, survivors are still trapped in the rubble of an earthquake, delays and confusion can mean the difference between life and death. The international community must wake up to this challenge and unite its efforts under one umbrella.
Mr Mitchell said that evidence showed a consolidated fund saved more lives and was more cost effective. It means plans, experts and supplies can be quickly put in place, rather than pushing money out in response to disaster appeals.
The number of people affected by disasters is expected to increase, with more people living in vulnerable areas, while levels of poverty mean many are unable to cope. Densely populated slums in coastal cities mean millions more people are living in poorly built shelters, while others are at risk of water-born disease caused by rising temperatures.
Published 27 December 2011