News story
World Bank Group member becomes first international institution to issue a Renminbi bond in London
The International Finance Corporation (IFC) issued a Renminbi 1 billion bond in London today.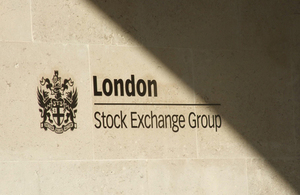 It is the first Renminbi bond to be issued in London by an international financial institution and will be listed on the London Stock Exchange.
The successful completion of the IFC bond further strengthens London's position as the Western centre of Renminbi trading. According to SWIFT data 62% of RMB payments outside of China take place in London and thanks to the government's agreement with the Chinese authorities, London firms are able to invest directly in Chinese stocks and shares in RMB – something that's not possible anywhere else in the West.
The government is determined to play a leading role increasing the use of Renminbi around the world. London will continue to lead the way in Renminbi market infrastructure. The UK was the first G7 country to agree RMB swap line with the People's Bank of China, giving London investors the confidence to expand their RMB activities. Building on this the Chancellor of the Exchequer, George Osborne, in a speech in Hong Kong last week announced that the UK and Chinese governments are in active discussions about the appointment of a Renminbi clearing bank in London.
IFC is part of the World Bank Group and provides advice and investment to help the private sector find solutions to development issues.
The Chancellor of the Exchequer, the Rt Hon George Osborne, MP said:
I'm delighted that the International Finance Corporation has become the first international financial institutional to issue an RMB bond in London.

Nearly two thirds of all Renminbi activity outside of greater China takes place in London and IFC's decision to issue in London provides yet more evidence that the capital is the western hub for Renminbi.

The government will continue to work very closely with the private sector, and the Chinese and Hong Kong authorities, to build a thriving RMB market in London.
Published 4 March 2014