World news story
Workshop for World Mental Health Day held in Colombo
This was published under the 2010 to 2015 Conservative and Liberal Democrat coalition government
Friday, 10 October, 2014 was World Mental Health Day and this year's focus was Living with Schizophrenia.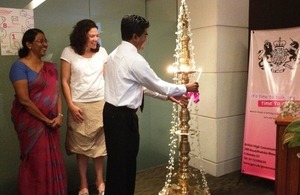 To mark this significant day, the Consular Section of the British High Commission (BHC) organised a workshop to raise awareness and promote a positive and non-judgemental approach towards mental health. The workshop was a collaboration between the BHC, the Colombo South Teaching Hospital and the University of Sri Jayawardenapura.
Many programmes about mental health in Sri Lanka are limited to a selected audience such as Medical Officers, health workers and local hospitals. These programmes do not reach out to other professions or the wider public. Bearing this in mind, the BHC workshop was tailor made for professionals in the Tourism trade, Immigration, the Tourist Police, Prison Officers and British High Commission Consular Wardens among others, so that they would be able to recognise an individual with mental health issues and take the necessary steps to offer assistance.
Considering the current scale of mental health issues in Sri Lanka, community outreach is inadequate. Moreover, the stigma and discrimination that is widely attached to mental health issues in Sri Lankan society makes it even harder for people to talk about it. Through this workshop, coupled with a social media campaign promoting the hashtag #timetotalk (the UK's most ambitious programme to create greater understanding of mental health problems), the BHC aimed to address this issue in a meaningful way.
Document information
Published: 24 October 2014