Workplace dispute reforms proposed by Government
The Government has announced the next steps in its comprehensive review of employment laws.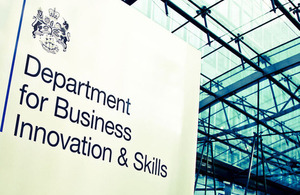 A new consultation to improve the way in which workplace disputes are resolved has launched alongside an Employer's Charter, designed to give businesses more confidence to take on workers and support growth.

Join the discussion on the new Employer's Charter and share your comments at the bottom of the page.
Prime Minister David Cameron said:
"Today's announcements on reforms to employment law are among the first conclusions of our government-wide growth review, and highlight our determination to ensure that employment law is no longer seen as a barrier to growth, while making sure that employees and employers are treated fairly.
"Giving businesses the confidence to take on somebody new will be a real boost to the economy, and help generate the sustainable growth we need."
Resolving workplace disputes - public consultation
The Government is proposing reforms to address recent concerns raised by businesses that Employment Tribunals have become too costly and take too much time, placing unnecessary strains on small businesses. The Government is seeking views on measures to:
Achieve more early resolution of workplace disputes so that parties can resolve their own problems, in a way that is fair and equitable for both sides, without having to go to an employment tribunal.
Ensure that, where parties do need to come to an employment tribunal, the process is as swift, user-friendly and effective as possible.
Help businesses and social enterprises feel more confident about hiring people.
Employer's Charter
The Employer's Charter aims to dispel many of the myths about what an employer can and can't do in managing their staff reasonably, fairly and lawfully, providing clarity for employers on what steps they can take when handling workplace issues with staff. It covers a wide range of employment law scenarios.
Join the discussion
This is a guidance document intended to help employers understand what they can generally do.
The Government wants to hear your opinions on the Charter. If you are an employer let us know if this is useful, and if you were aware of what you could or couldn't do. You can leave comments in the box below.
Please enable JavaScript to view the comments powered by Disqus. blog comments powered by Disqus
Published 27 January 2011