Working with Colombia on human rights
Foreign Office Minister Alistair Burt discussed human rights with Colombian Vice-President Angelino Garzon when they met on 23 January.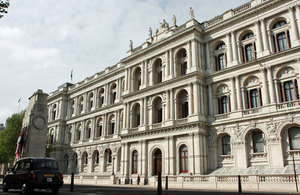 They discussed human rights issues in Colombia and his candidature for the position of Director General of the International Labour Organisation(ILO).
As Head of the Presidential Programme on human rights, the Vice President outlined plans for tackling human rights concerns in Colombia. The Foreign Office Minister reiterated the UK's commitment to support the Colombian Government's efforts in this area.
They discussed ways in which the UK and Colombia could work together to achieve further progress, for example to ensure the success of the National Human Rights Conference scheduled for December 2012. Mr Burt also raised the need to improve the situation of human rights defenders in Colombia. The Vice President set out his vision for what sort of an ILO the world needs today.
Published 24 January 2012