Working dogs are man's best friend in Afghanistan
The squadron is responsible for the deployment, care and welfare of over 80 military working dogs. The dogs provide security at operating bases…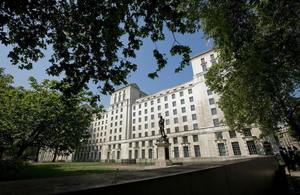 The squadron is responsible for the deployment, care and welfare of over 80 military working dogs.
The dogs provide security at operating bases and help with the detection of improvised explosive devices, allowing troops the freedom of movement to conduct counter-insurgency operations.
The benefits of military working dogs are widely recognised across Defence, with 102 MWD Squadron being responsible for training and deploying a two-fold increase in detection dog capability for Op HERRICK 15.
Normally handled by the Royal Army Veterinary Corps (RAVC) and Royal Air Force Police, 102 MWD Squadron will be the first squadron responsible for commanding infantry soldiers that have been specially selected and trained to handle IED detection dogs.
The Officer Commanding 102 MWD Squadron, Major Eddie Thompson, Royal Engineers, said:
It's a proud and honoured time for both the 1st Military Working Dog Regiment and the squadron, who will see the introduction of embedded dog handlers, providing the infantry companies with a life- and limb-saving capability.
These specialist dog teams will be providing an added level of detection against the IED threats that they face daily here in Helmand.
The dogs and handlers have undergone a comprehensive training and fitness programme in preparation for the Afghan environment which will be consolidated in Camp Bastion in a new state-of-the-art IED detection dog training facility.
Private Laura March, RAVC, who works with Max, a black labrador, said:
He and I are inseparable; he has boundless energy and with the fantastic facilities here in Camp Bastion the dogs are more than prepared.
The dogs' fitness is not an issue with the preparation they've had. I must admit I found it hard at first carrying all the weight, but since completing over six months' training and the time we have spent in theatre acclimatising I am now used to it.
The dogs' needs have been well catered for in Helmand, with an uplift of conditioned ISO (freight container) kennels and the procurement of tactical field and 'forward operating base' kennels specifically designed to maximise dog comfort, cleanliness and safety.
The operational kennels ensure the dogs have the best possible environment to rest and recuperate in between patrols.
The dogs are procured from all over the world and are of various breeds including Cocker and Springer spaniels, German and Belgian Shepherds (Malinois), and labrador retrievers.
Lance Corporal Kevin Anderson, from 102 MWD Squadron based in Sennelager, Germany, works with an 18-month-old male Belgian Malinois called Fridjtof. He said:
Working with Fridjtof has been absolutely brilliant; he is a search dog and incredibly hardworking. He copes well with the hot conditions here as we have been training in a similar climate prior to coming to Afghanistan.
We bonded in a couple of weeks and he is a pleasure to work with.
Lance Corporal Anderson is in Afghanistan for the second time, Fridjtof is there for the first time. They will share a close working relationship over the coming months in what is possibly the most austere environment any dog handler could encounter.
The squadron provides vehicle search dogs which search all vehicles entering Camp Bastion, preventing the entry of illegal contraband - primarily arms and explosives.
Corporal 'Fozzy' Foster is in the Royal Air Force Police and works at Camp Bastion with his black labrador, Mac. He said:
Mac is playful, but when it comes to doing his job he is focused and thorough.
It is hot work so I keep him hydrated and in the shade where I can. You grow to know your dog very well. I always reward him with a treat or a bit of playtime with his ball after work.
New or updated equipment to make life easier and safer for ourselves and the dogs is arriving all the time. Recent additions include operational harnesses, para-shades, control lines and hydration packs.
The dogs play an important part of daily life in Afghanistan and provide that extra feeling of safety and security to the humans they work with. They have no agenda and the work is just an extension of their natural instincts, proving to be a daily life-saver.
Facing the same dangers that the environment in Afghanistan brings to coalition forces and the Afghan National Security Forces, the dogs are on the ground daily and have been pre-selected for their steadiness and appreciation of the environment.
The IED training area allows the dogs to become accustomed to the unusual noises of helicopters, mortar and gun fire and also allows the teams to familiarise themselves with the various forms of transport they may come across.
Working with a search dog is Lance Corporal Lou Robinson, who works with a female Belgian Malinois called Hiha. The dog is two-and-a-half years old and has worked in Afghanistan before.
Lance Corporal Robinson said:
I have worked with Hiha for about two weeks and she is awesome; I have also served in Afghanistan before in 2009. Working with the dogs is great and Hiha has a really good temperament.
We have the dogs' welfare at the forefront of our minds and when not working we have plunge pools and conditioned kennels where the dogs can recover.
Also in the working dog section is Private Chris Lush. He is in Afghanistan for the first time and is working with Charlie, a two-and-a-half-year-old Springer spaniel who is a different type of search dog. Private Lush said:
I have the utmost trust in Charlie; he does a brilliant job and is one of the best dogs in the section. It is hard work and we are carrying a lot of equipment, plus extra gear for the dog to do its job.
I was a bit nervous at first working out here, but we, as a team of handlers, work well together. The dogs all get on with each other and they are well looked after.
I have always loved dogs; I studied animal management at Sparsholt College near Winchester before I joined up. Diet for the dogs is important and we feed them 'Eukanuba', a high performance dry food that keeps them in peak condition.
The operations that the Theatre Military Working Dog Support Unit carry out in Afghanistan are vital to the operational effort. The bond between dogs and their handlers is plain to see.
The different breeds ensure specific functions are covered and the training they receive ensures they are in total harmony with their handlers.
The equipment they use in Afghanistan has been designed to withstand the environment. 102 MWD Squadron will remain in Afghanistan for six months when, at the end of HERRICK 15, they will return to Sennelager, Germany.
By their very nature the dogs bring smiles and a touch of normal life to those they protect. They are by no means domestic pets, but do enjoy a cuddle, a pat, or a rough of the neck now and again. They are in fact still 'man's best friend' in Afghanistan.
Published 21 October 2011