Press release
Work underway to maintain navigation on River Great Ouse
Work is underway to maintain navigation for boaters on the river Great Ouse at Hemingford Lock near St Ives.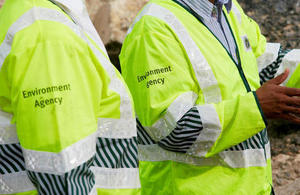 The work started on 14 April 2014 and involves de-silting and then redistributing the material by filling-in holes in the river bed.
Following feedback from local boaters, the Environment Agency is using contractors to clear sediment from the stretch of river. The work at Hemingford Lock follows similar work at Castle Mills Lock near Bedford where in excess of 800 tonnes of gravel has been redistributed.
The Environment Agency's Paul Separovic said:
Sediment has been a real problem for boaters and became worse as a result of the recent flooding, building-up and then blocking the navigation channel in places. The work at Castle Mills Lock has been completed and the work crew is currently at another hotspot at Hemingford Lock.

The cost of the work will be around £25k across both locations, depending on the final amount of material shifted. We actively maintain our rivers and it's important to us to address our boating customers' concerns. The work is ongoing and the situation will be monitored in case further action needs to be taken again in the future. However the good news for now is the navigation is clear and open for use by all boaters – particularly welcome ahead of the Bedford River Festival in July which attracts many visitors.
Published 1 May 2014