Press release
Work to start on A38 Dobwalls safety scheme
Work on the safety scheme for the A38 Dobwalls Bypass will start this week (commencing 22 September).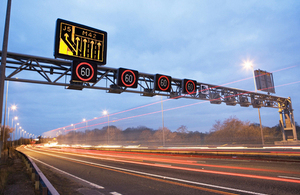 The work will reduce the build-up of water and ice on the road surface which has led to lane closures in previous winters.
The work will be carried out in phases and will require the following lane closures:
Weeks commencing 22 September and 29 September - Lane 1 closures (both carriageways) between A38/A390 Twelvewoods Roundabout and Moorswater junction at Liskeard to install traffic signing, CCTV cameras and speed cameras.
Week commencing 29 September and 6 October – Lane 2 closures (both carriageways) between A38/A390 Twelvewoods Roundabout and Moorswater junction at Liskeard to construct a temporary traffic crossover at the western end of scheme and install barriers to protect the workforce.
A full contraflow on eastbound the eastbound carriageway will become operational over the weekend of 11 to 12 October to allow full depth construction on westbound carriageway (until end of January 2015).
The junction at Petersfield will be closed whilst the works to the westbound carriageway are carried out, with local diversions in place for traffic wishing to access Dobwalls or Moorswater Industrial Estate.
A temporary 40mph speed limit with average speed cameras will be in force to protect the workforce and public from 29 September. There will also be a 7.5 tonne weight limit for through traffic in Dobwalls to prevent rat running of HGVs through the village.
Further details of the next phases of work will be publicised nearer the time.
Since the A38 Dobwalls bypass was completed in 2008 problems with surface water have developed meaning lanes having to be closed during cold weather due to the risk of ice forming. Investigations into the causes have been ongoing and as a result the Highways Agency will now be reconstructing just under a one mile section of the bypass to rectify the problem.
Stephen Coe, Highways Agency project manager said:
We are working with Cornwall Council and our contractors to minimise the disruption to road users and residents during the construction work. We aim to complete the scheme before the 2015 summer tourist season.
Just under a mile of the two mile original scheme is affected by excess water building up. During the reconstruction of this section of road, the Agency will be able to complete a full investigation to identify the causes of the problem and install extra drainage measures.
Work will be completed on each carriageway in turn and is due to be complete before summer 2015.
General enquiries
Members of the public should contact the Highways Agency Information Line on 0300 123 5000.
Media enquiries
Journalists should contact the Highways Agency press office on 0844 693 1448 and use the menu to speak to the most appropriate press officer.
Published 23 September 2014