Press release
Work to improve Littlehampton's tidal defences is progressing well
The phase to construct a 450 metre long tidal river wall along the East Bank of the River Arun is now due to be completed in May.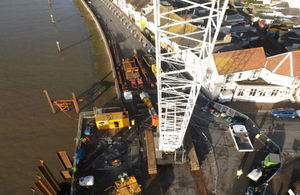 This flood alleviation scheme is part of an adaptive tidal food risk management approach to predicted sea level rise. When the whole scheme is completed it will protect over 2,000 residential properties and businesses.
The multi-million pound scheme, created in partnership with Arun District Council, Littlehampton Harbour Board and West Sussex County Council, will also vastly improve the walkway along the riverside, creating an attractive pedestrian route between the town and the beach.
Work to the flood wall will be complemented by design work which will raise the promenade, enhancing the views across the river. These enhancements, together with works to realign the flood embankments north of the A259 road bridge, are scheduled to be completed this autumn as work will continue throughout the summer.
David Robinson, Environment Agency Flood and Coastal Risk Operations Manager, said:
I am very pleased that work on this major project to protect thousands of Littlehampton residents from tidal flooding is moving forward quickly, particularly after such challenging weather conditions over the winter.

Following the wettest winter on record it was very frustrating for the whole project team that adverse weather conditions unavoidably led to slower progress on the project than expected. These extreme weather events reinforce the critical importance of protecting the people of Littlehampton from flooding.

I want to thank residents and businesses for their understanding and ongoing support whilst construction continues to provide Littlehampton with a world-class flood defence scheme and a wonderful new public space for all to enjoy. Throughout the duration of this ambitious project we have worked with businesses to help them remain trading as normal in the Pier Road and Arun Parade areas, despite necessary traffic closures and our construction activities.
Free parking for the customers of Pier Road shops, restaurants and Harbour Park has been made available by Arun District Council in the West Green Car Park for the duration of the flood defence works.
Councillor Paul Dendle, Arun District Council's Cabinet Member for Environmental Services said "I look forward to the successful completion of this important scheme and to the benefits that this will bring to Littlehampton, both in terms of flood protection and the exciting enhancements to the street scene."
A public visitors' centre, located on the north-western corner of the Oyster Pond on Arun Parade, is now open from Wednesday to Sunday from 12 noon to 5pm for interested members of the public to visit and find out more about the project.
Notice boards have been set up on site for businesses and visitors to the area to find out more about the scheme and to be kept informed of its progress.
Published 24 April 2014