Press release
Work Programme is getting people working
Tens of thousands of long-term unemployed are getting off benefits and into jobs through the Government's Work Programme.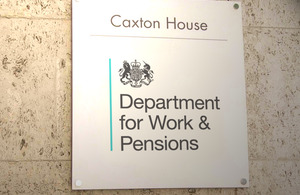 Tens of thousands of long-term unemployed are getting off benefits and into jobs through the Government's Work Programme, new figures have revealed.
The Government figures published today show that at least 56 per cent of the scheme's earliest participants have come off benefits, with 19 per cent spending at least six consecutive months off benefits.
The Work Programme was launched in June 2011 and involves private and voluntary sector organisations being paid according to their success in helping the long-term unemployed back into work. More than 200,000 participants had been found some work by September, according to data published by the Employment Related Services Association (ERSA).
By the end of July 2012, 31,000 people had remained in a job for several months - most for six months and some harder-to-help claimants for at least three months.
Industry analysis of the programme shows the taxpayer pays significantly less for each participant on the Work Programme than under previous schemes, like the Future New Deal, where providers were paid up front regardless of whether they delivered results.
The ERSA data shows every job started so far has cost £2,097, compared to £7,495 per job under the Flexible New Deal.
Mark Hoban, Minister for Employment, said:
The Work Programme is succeeding in getting people off benefits and into work. It's still early days but already thousands of lives are being transformed.

One in four people have been in work, more than half of the early starters have been off benefit and performance is improving.

Previous schemes paid out too much up front regardless of success, but by only paying providers for delivering results, the Work Programme is actually offering the taxpayer real value for money.

Clearly these figures only give a snapshot picture as we're one year in, and the Work Programme offers support to claimants for two years, but these results are encouraging and something Providers can look to build on.
The Work Programme supports some of the hardest-to-help claimants including the long-term unemployed, disabled and ex-offenders.
Today's statistics show varying performance among providers. Some are performing well in helping people back to work, but others are not doing as well. The Department is managing providers vigorously to constantly improve performance. Letters have been issued to all providers expressing concern where their performance falls short of requirements and those providers with the lowest performance to date have been issued with formal contract letters
Mr Hoban added:
Some providers have found their feet quickly and are already performing well but there is clearly a mixed picture today. We won't tolerate second best - getting the long-term unemployed back to work is my priority.

My message to providers under-performing is clear: It's time to up your game or we will send more participants to those who are coming up with the results.
Today Mr Hoban will visit TNT Post in Victoria where he will meet some of the 50 people the company has taken on through the Work Programme.
Lee Faulkner was out of work for a year before joining the Work Programme and was placed at TNT Post through one of our providers, Ingeus, four months ago. He said:
The Work Programme has found the perfect job for me. I'm working in a friendly environment with other people but have the chance to work independently too. I'm also looking forward to the expansion of TNT Post next year so that I can develop in my new career and run my own team.
Nick Wells, chief executive officer, TNT Post, said:
We have already taken on 50 people through the Work Programme and if we continue to receive the high quality candidates that we have had so far we hope to take on 50% of our new Postie recruits through the Work Programme and Youth Contract.
Notes to Editors:
The Work Programme was launched in June 2011 and is aimed at those at risk of long-term unemployment. Providers are paid according to results to get people into work, with extra incentives to support the hardest to help.
Providers have flexibility to innovate and to design support that addresses the needs of the individual and the local labour market, rather than having to follow one size fits all processes. They get a small amount of money up front but most payment comes after someone has been in work for up to six months, and extra payments for each month afterwards. Once referred, claimants remain on the Work Programme for two years. Even after  a participant has started a job their provider will offer them in-work support for the balance of their time on the programme. 2. Official Statistics on outcome payments in the Work Programme are available here: http://statistics.dwp.gov.uk/asd/index.php?page=wp
Outcome payments are usually made after someone has been in work for six months, or three months in the case of the very hardest to help. 3. DWP analysis showing the numbers of Work Programme participants who have come off benefits is available here: http://statistics.dwp.gov.uk/asd/index.php?page=adhoc_analysis
The Work Programme is partly paid for by benefit savings.
Media enquiries: 0203 267 5085
Out of hours: 07659 108 883
Published 27 November 2012