Work begins on essential Helmand road
Work is underway to build a new road which will form an important transport link for locals in an area of Helmand province where security is provided by British troops.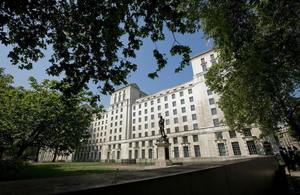 The new road project, known as Route Morpheus, will link Marjah and Gereshk and strike at the heart of the Taliban's tactic of laying roadside bombs.
The major scheme will see the current route improved and a large stretch connecting it to Lashkar Gah surfaced with tarmac. Properly surfaced roads make it much more difficult for insurgents to conceal improvised explosive devices which target troops as well as ordinary people going about their lives, causing death and injury.
The road will also provide a tremendous boon to the area and the wider province in a number of ways as it will improve transit ability and freedom of movement for local people as well as ISAF and Afghan security forces.
Local businesses will also prosper as the new road will mean quicker, easier and safer access to markets and people's homes. People will be able to bring more goods to market more quickly, and with less intimidation from insurgents.
A ceremony was held recently to herald the beginning of the work in Lashkar Gah, an area overseen by The Royal Highland Fusiliers, 2nd Battalion The Royal Regiment of Scotland (2 SCOTS).
Lieutenant Erik Smith from 2 SCOTS said:
This route improvement will allow local people to sleep sounder in their beds knowing that the ISAF and Afghan National Police forces can conduct more effective and quicker route patrols and that insurgents will be deterred.
Local elders are thrilled at the prospect of this new road being completed. One local elder, Wakeil Abdul Razik, said:
The people of the Bolan Dasht [deser] have much to gain from the construction of this road; in particular, it will mean work for our unemployed and it will mean access to the bazaars for our shopkeepers.
The work to create the road will be carried out by local people, with local contractors managing and overseeing the work.
Published 8 February 2011