Woolwich Barracks reopens following regeneration
The site in London was earmarked for closure until the decision was made to create the Woolwich Development Project which included upgrading…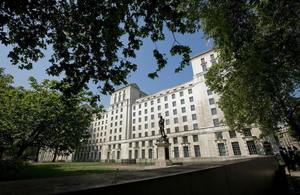 The site in London was earmarked for closure until the decision was made to create the Woolwich Development Project which included upgrading the barracks.
Subsequently, the Firm Base London (FBL) project was established to take a wider view across London and as a result further investment is being made to improve living accommodation and welfare facilities for both single and married servicemen and women.
FBL worked alongside Defence Estates to create 422 new bedrooms in six blocks, and a further two blocks comprising 101 bedrooms will be completed by the end of September for the King's Troop Royal Horse Artillery, who will relocate from St John's Wood next year.
The regeneration of the barracks included redecoration, complete refurbishment of all bathrooms and replacement of kitchens, boilers and heating systems where necessary, as well as some heating and electrical system enhancements.
Externally the site has benefited from refurbished fencing to garden and communal areas, three refurbished play parks and, subject to planning permission, the installation of a multi-use games area.
One of the main features of the new accommodation is that every soldier has his own room, complete with a bathroom and storage area, in a bid to move away from the image of army dormitories of the past.
Soldiers from 2nd Battalion The Princess of Wales's Royal Regiment (2 PWRR) are the first to occupy the brand new accommodation following their two-year deployment to Cyprus.
2 PWRR Company Commander, Major Jonny Laws, said:
This is a real step-change in the level of accommodation that soldiers have had. I don't think any of them have had anything of this standard before. It's new, it's modern and we're treating people like grown-ups which, I think, is what we should be doing.

The guys have got privacy but there are areas where they can be with their mates if they want to and I think it's how an army should be in the 21st century.

Most guys have gone from a four-man shared room to a single room, and to have your own shower and your own loo in the room is a complete change as well.
The new barracks is designed to create a base for, and to improve the lives of, the personnel and their families who are posted to London.
One of the first soldiers to stay in the accommodation is Private Jack Dennehy of 2 PWRR:
I've lived in Tern Hill which had eight-man rooms and then went to Northern Ireland which had four-man rooms," he said. "By the end of our stay in Cyprus we had single-man rooms, so it's constantly been getting better and better.

Now here in London we've got single-man rooms with en suite and storage space which is great. Everyone thinks it's fantastic.
The original Woolwich Barracks was built in 1776 and in constant use as the Royal Artillery (RA) Headquarters until the departure of 16 Regiment RA in July 2007. The history and lineage of the site plays a big part in the regeneration.
General Officer Commanding London District, Major General William Cubitt, said:
This is a historic military site which has been in military use for 300 years and therefore it is nice to be able to rejuvenate it and get it up and running again in this important part of London.
"It is excellent that we've been able to properly equip this barracks for an infantry battalion, thereby greatly improving their lives.
It is the army policy to provide this type of accommodation, we haven't managed it everywhere but this is an example of where we have managed it, so it's really good news.
Defence Estates Head of Operations South, Bill Yardley, said:
We ask our troops to perform difficult and dangerous tasks, which makes it all the more important to provide our young single soldiers with excellent accommodation, as we have at Woolwich with comfortable and well-equipped new rooms.

In addition to new single living accommodation, we've also improved housing at Woolwich. Our aim is for all Service family homes to reach our top standard and the upgraded homes at Woolwich are a good example of the work we've been undertaking across the UK.

But, like all our projects, what we've delivered here is very important and goes beyond planning, creating sustainable buildings and money invested. These refurbishments are making a real difference - both to single soldiers living in new accommodation and to Service families who are enjoying their improved homes.
Woolwich is the first barracks to be regenerated in a three-year plan which forecasts improvements in London Central Garrison and London Windsor Garrison to be completed in the first half of 2011.
Published 9 September 2010