News story
Women's Engagement Newsletter: August 2013
Women's Engagement Newsletter: Introduction by Jo Swinson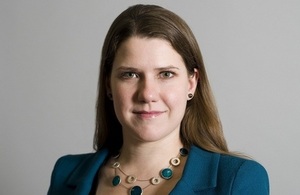 Welcome to the August edition of the Women's Engagement newsletter.
One of our top priorities as a ministerial team is to champion women in business and promote their contribution to economic growth. The Womens Business Council report, published in June this year, set out a number of recommendations for both business and government to help women to thrive in employment. This autumn we will be publishing an action plan to turn it into reality.
We are particularly keen to drive up girls' aspirations, to help them think more broadly about their career choices and not be put off by gender stereotypes that may make them think that certain careers, or certain school subjects, are not for them.
Earlier this month I hosted a roundtable to talk about how we can encourage more girls to consider careers in STEM occupations, such as engineering and technology.
It is shocking that only 8% of engineers working in the UK are women, and women make up only 12% of engineering and technology undergraduates. This is of course a huge waste of potential talent. In order for more women to enter these professions we must address the low numbers of girls opting to study physics and maths beyond their GCSE years. LadyGeek is doing great work with schools to inspire girls to become technology pioneers via their Little Miss Geek campaign.
Employers have a role to play, too. If workplaces are not designed in a way that will allow women to thrive then we will continue to see women dropping out of certain professions and moving to other areas that offer a more flexible environment.
We have a number of further engagement activities planned for the coming months on the theme of raising girls aspirations. We must ensure that young women are not restricted in their career choices by stereotypes of job roles and that they are aware of the vast and varied employment opportunities that are open to them.
Published 30 August 2013