Press release
Women to benefit from £10 million for better maternity environments
£10 million is being awarded to trusts as part of the government's drive to improve maternity care for women and babies.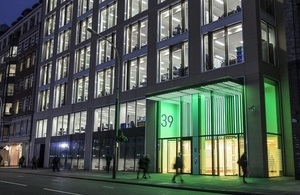 Expectant mothers will be seen in more homely environments and benefit from new equipment, maternity minister, Dr Dan Poulter said at Kingston Hospital today. £10 million is being awarded to trusts as part of the government's drive to improve maternity care for women and babies.
The fund has been allocated to 63 Trusts across the country and will help to improve the settings where women receive care before, during and after birth. The funding will also give women more choice of place of birth.
Examples of trusts to receive funding include:
Blackpool Teaching Hospitals NHS Foundation Trust – The funding will contribute to a 'complex needs suite' alongside the existing maternity unit. This will have en-suite family-friendly facilities and offer a more constant environment for women whose birth experience is complicated by complex social or medical needs.

Pennine Acute Hospitals NHS Trust, North Manchester General Hospital is to benefit from an extra Labour Delivery Recovery and Postnatal (LDRP) room with an in-built birthing pool.

Harrogate and District NHS Foundation Trust, Harrogate and District – The funding will contribute towards a delivery suite and new wet room/bathroom.

Portsmouth Hospitals NHS Trust, Queen Alexandra Hospital – The funding will provide equipment including reclining chairs, equipment to help women adopt a more upright position when giving birth and improve facilities for partners and families.

Liverpool Women's NHS Foundation Trust, Liverpool Women's Hospital – The funding will allow updating of the midwifery-led birthing facilities and a low obstetric risk postnatal area. This will include the refurbishment of 11 birthing rooms with en-suite bathrooms on a Midwife led Unit and 12 postnatal rooms with en-suite bathrooms on a postnatal ward.
Speaking at Kingston Hospital, recipients of funding for a new birthing pool under the 2012/13 scheme Maternity Minister, Dr Dan Poulter said:
Making sure families receive a good experience when having a baby in NHS maternity units is a top priority for me, as both a doctor and a health minister.

Since 2010 we have already seen huge improvements to maternity services right across the country. We have more midwives working in more midwife-led units, record numbers of midwives in training, more birthing pools, and more family rooms. More mums and babies are being helped to have the best start in life.

This investment in maternity care is all already making a big difference to families, with more choice and a better environment where women can give birth.

But we want to do more. This £10 million investment has been targeted to the areas we know need it the most. It has also provided a boost to the local economy by supporting local, hardworking companies who will carry out the work.
The funding builds on the successful £25 million maternity capital investment programme set up last year which has funded significant improvements to 100 birthing units.
Cathy Warwick, Chief Executive of the Royal College of Midwives, said:
This £10 million fund is very welcome. Last year, the first tranche of funding made a big difference to our maternity units and mothers, babies and families are experiencing better facilities. I look forward to seeing more units reap the benefits of securing a grant.
Kate Grimes, Chief Executive of Kingston Hospital NHS Foundation Trust said:
Here at Kingston we pride ourselves on offering women the best care and choice when it comes to maternity services.

Last year we had the funding for a brand new birthing pool in our Labour ward which has benefitted a significant number of women to achieve the birth they wanted. We have been fortunate to have been awarded another grant this year which will help us give support to vulnerable women with complex needs.
The successful trusts are all in areas where the birth rate has risen rapidly and will provide a boost to the economy, as local companies and building firms will be tasked to carry out the work.
The government has made a clear commitment to improving results for women and their babies and the new funding will mean women all across the country will have more maternity units than ever before with better facilities to choose from.
Improving Maternity Care Settings Funding Allocations
Published 20 March 2014