World news story
Women entrepreneurs: secrets to success
UKTI Australia's first 'Women in Innovation' event discussed how female entrepreneurs could overcome the challenges they face.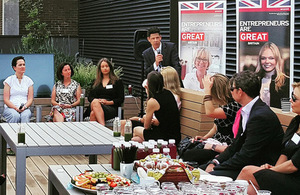 UK Trade & Investment Australia held its inaugural 'Women in Innovation' event on Tuesday 15 December in Sydney. The breakfast panel discussion focused on what it takes to create the right environment for women innovators to succeed and what lessons the panellists and audience had learned from their experiences in the UK and Australia.
Panellists encouraged delegates to 'Think big. Think global'; 'Be aware of your competition and clearly differentiate' and to recognise that 'entrepreneurship is really tough, so develop your resilience.' Finding the right mentors was also highlighted.
On the panel was Sarah Turner, founder of Angel Academe in the UK, an angel investor group for women start-ups, and dealmaker for UKTI's Global Entrepreneur Programme. Sarah was joined by Laura Mackenzie, CEO of Scale Investors, Chris Brycki, Founder and CEO of Stockspot, and Jessica Wilson, Founder and CEO of Stashd App. UKTI Dealmaker and Head of Tyro fintech hub, Andrew Corbett-Jones facilitated the discussion.
Panellists shared their insights into the challenges of entrepreneurship, especially for women. For Jessica Wilson this included not being taken seriously because of her young age when starting out, despite a sound business model, and not knowing where to go to access education and resources. She says that whilst it is great that we are highlighting women entrepreneurs we are still not showing women 'how to do things' so there remains a need for greater access to practical support.
Laura Mackenzie talked of the need for more women in senior positions and more female entrepreneur role models.
In her welcome address via video-link, British High Commissioner Menna Rawlings also shared some insights and said that in her experience at the Foreign Office, a lack of "confidence and self-belief can hold women back" and that we have a shared responsibility, "to address this through sponsorship and mentoring". She also spoke of the importance of networking and "how we as leaders, as entrepreneurs, as women, as men should support women to make the right connections and build their own networks to achieve success."
Speaking about opportunities for Australian female entrepreneurs Sarah Turner said: "I think Australia has all the ingredients for a great entrepreneurial hub, including a new tax break for angel investors. It feels similar in many ways to the UK and US with its tech savvy consumers and businesses, but is a relatively small market which makes it a perfect place to test concepts before taking them to the UK and further afield."
About UK Trade & Investment
UK Trade & Investment is the British government's commercial arm, which supports the international growth of British businesses, as well as the investment and expansion of global businesses into the UK.
For more information on this event or how UKTI can help your company please contact:
Annie Galea
Head of Communication
UK Trade & Investment Australia
Ph: 02 8247 2274
E: annie.galea@mobile.ukti.gov.uk
Document information
Published: 17 December 2015