Women and girls: Millions to access justice against violence
British aid to help millions of women and girls access better justice and support against violence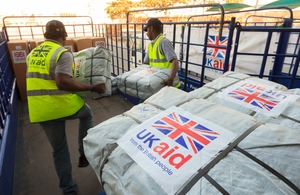 **The UK Government has launched a new initiative to help prevent violence against women and girls living around the world. **
According to UN figures, one in three women globally will be beaten or sexually abused in their lifetime. International Development Secretary Justine Greening announced in a speech today that a new research and innovation fund will collect evidence of violence against women and girls from ten countries in Africa and Asia to help shape a new prevention strategy over a five year period.
Speaking at an event to mark International Day for the Elimination of Violence Against Women, Justine Greening said:
It is shocking and unacceptable that in the 21st century one in three women is still beaten or sexually abused in her lifetime. This matters for development: girls who experience violence are less likely to complete their education, find it harder to earn a living, and have a significantly higher risk of maternal death and vulnerability to HIV and AIDS.

The UK is leading the international community to prevent violence against women and is working to get a better understanding of what works on the ground so we can stop it for good.
Transforming programmes, ending violence
Evidence from the research will enable the UK and its international partners to transform the way programmes are designed and to better formulate schemes to help women and girls. For example, in Nepal, a new paralegal programme was created after trials showed that community mediators are particularly effective at addressing protection issues, leading to a 36% reduction in domestic abuse cases.
Specifically, the research and innovation fund will:
drive innovation, generate ground-breaking new evidence and support new prevention programmes
support innovation and research in humanitarian settings and conflict states so that we can ensure women and girls at risk of violence are best protected
focus on prevention strategies in over 10 countries
encourage the international community to work better with communities and national governments to help transform discriminatory attitudes and behaviours
contribute to helping 10 million women access justice by 2015.
The case for action is clear
As well as violating the human rights of women and girls, evidence shows that girls who experience violence are less likely to complete their education.
During conflict and humanitarian crises, the incidence of physical and sexual violence can dramatically increase. In eastern Democratic Republic of Congo at least 200,000 cases of sexual violence have been documented since 1996.
The Department for International Development is supporting the Foreign Office in its work in preventing sexual violence in conflict initiative. Last week, it was announced that HMG will make violence against women and girls one of their priorities for the UK Presidency of the G8 in 2013.
Read Justine Greening's speech in full.
---
Working to eliminate violence against women:
Huffington Post UK blog: Development Minister Lynne Featherstone blogs from Zambia on violence against women and girls.
The cost of conflict for women in DRC: "We need to move beyond a focus on women as victims to one of women as active agents of change."
Rising above the stigma and scars: How UK aid is helping acid victims in Pakistan.  Watch a video and find out more about the UK aid Gender Justice and Protection programme.
Published 28 November 2012