Press release
Woman rescued from rising tide in foggy Ryde
Woman and pet saved from Appley Beach on the Isle of Wight.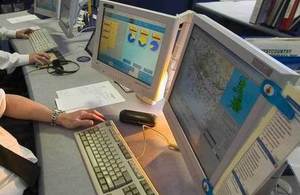 A woman and her dog have been pulled from the water after becoming cut off by the rising tide in thick fog at Ryde, Isle of Wight.
Solent Coastguard took a 999 call just before 8am this morning (1 April 2014) from the woman's husband reporting that his wife was cut off, very distressed and on Appley Beach. Solent Coastguard immediately telephoned the woman who was stuck in the water with her dog. The water was already up to her waist, and, due to thick fog, she was disoriented.
The Bembridge Coastguard Rescue Team, trained in water rescue, and 2 boats from Ryde Inshore Rescue were sent to the scene. Due to the foggy conditions, it wasn't clear exactly where the woman was. Rescuers had to shout to her to track her down, but she was eventually located. Both her and the dog were then recovered to the lifeboat before being passed into the care of paramedics.
Karen Bosman, Watch Manager at Solent Coastguard, says:
This woman told us she often takes her dog for a walk on the beach in this area, but this morning she was not aware of the rising spring tide. Combined with the foggy conditions, she ended up getting stuck up to her waist in the water.

This must have been a terrifying ordeal and we're grateful that we managed to recover her in time. To avoid becoming stuck yourself, best to check the weather and tide times before you set out.

Remember though, if you do get into difficulty, call 999 and ask for the Coastguard.
Maritime and Coastguard Agency press office
Press enquiries 020381 72222 (Monday to Friday, 9am-5pm)
Outside these hours, for emergency press enquiries only please dial the above number. You will hear a message giving an out of hours pager number.
Published 1 April 2014