News story
Woman caught smuggling banned animal products at Cardiff Airport
A woman has been fined more than £2,000 after Border Force officers caught her trying to smuggle banned animal products through Cardiff Airport.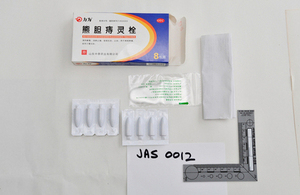 Sun Liu, 51, was stopped by officers at the airport as she arrived on a flight from Beijing via Amsterdam on 22 July 2012.
A suitcase containing traditional Chinese medicines was searched and six packets were found to contain items banned under the Convention on International Trade in Endangered Species (CITES).
Three boxes (each containing 10 portions) contained ground rhinoceros horn, one box contained eight portions of a medicine containing bear bile and two boxes contained shenrong weisheng wan – a plant extract.
Liu was arrested at her home address of Dr China, Taff Street, Pontypridd, by National Crime Agency investigators in December 2012 and later charged with three counts of knowingly concerned in the fraudulent evasion of a prohibition on the importation of goods.
She denied the offences but was found guilty yesterday (24 November) following a trial at Newport Crown Court. Sentence was immediately passed by the judge with Liu fined £750 for each of the three offences (£2,250 in total). She was also charged £1,500 costs.
Grant Miller, head of the Border Force CITES team, said:
Just because items like this are available in other countries, it doesn't mean they can be brought into the UK.

Border Force officers take their role in enforcing international agreements like CITES very seriously and anyone tempted to bring endangered animals and plants through our airports should think again.
Dawn Cartwright, from the National Crime Agency's Border Policing Command, said:
These items were restricted for a very good reason, to protect the endangered species of animals and plants they came from. I've no doubt they would have ended up on sale in the UK and it is the demand for these kinds of products which is having such a devastating impact on the species involved.

I'm glad that with our Border Force colleagues we have been able to demonstrate that those caught trying to bring products like this to the UK will face arrest and prosecution.
Border Force is responsible for frontline detection and seizures of endangered animals and plants covered by the CITES convention.
Around 5,000 species of animals and 29,000 species of plants are protected by CITES, whether they are traded as live specimens or as derivatives.
In the year 2013 Border Force officers made 569 seizures under CITES regulations. Among the items seized were 486 live birds or animals, 280 live plants and more than 700,000 units of medicines made from parts or derivatives of endangered species.
Border Force officers are at the front line in protecting the country and play a key role in detecting illegal immigration, disrupting serious and organised crime and helping to prevent the threat of terrorism. Border Force also protects the UK's revenue, contributing to the nation's prosperity and growth.
Criminal investigations launched as a result of Border Force seizures of prohibited items and goods are undertaken by officers from the National Crime Agency's Border Policing Command. The NCA is leading the UK's fight to cut serious and organised crime, including child exploitation, drug and people smuggling, illegal immigration and fraud and cyber crime.
Anyone with information about activity they suspect may be linked to smuggling should call our hotline on 0800 59 5000.
Published 26 November 2014