News story
Winners of green heating competition revealed
17 November 2011 First wave of social housing winners to share in £4million fund Regional data published on uptake of £15 million Renewable…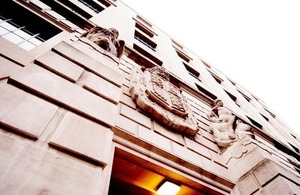 17 November 2011
First wave of social housing winners to share in £4million fund
Regional data published on uptake of £15 million Renewable Heat Premium Payment Scheme so far
Twenty-four social housing providers across Britain have been awarded a share of a £4 million fund to install green heating systems in the homes of their tenants. They are the first winners to be announced under the Renewable Heat Premium Payment scheme competition for social landlords, which was launched earlier this year. Further winners will be confirmed shortly.
There was a strong response with 125 bids submitted by the closing date.
The 24 successful applicants will receive up to £175,000 to install green heating systems such as biomass boilers, solar hot water panels and heat pumps in the homes of tenants.
Successful bidders included projects across the whole of Great Britain.
Energy and Climate Change Minister Greg Barker said:
"This scheme directly targets many of the people who could struggle to pay their heating bills in the winter and I am pleased so many social housing organisations across the country will be able to get a share of the cash. It will encourage an increase in the number of new heating technologies in social housing and help people deal with expensive fuel costs."
Karen Lawrence, director of delivery for the Energy Saving Trust said:
"From our work with social landlords across the UK, we're well aware of a great appetite for green technologies that can help tenants heat their homes more cheaply and efficiently. We also know councils and housing associations have become increasingly proactive and knowledgeable in the field of sustainability - and this was reflected in the standard of the bids for funding that were received.
"Both this and the householder strand of the RHPP will also be great learning opportunities. Real data on performance in people's homes is absolutely key in successfully boosting the market for renewable heat technologies."
Interested social housing providers had to set out how they would spend the funding and demonstrate clear value for money in their plans. Other criteria included details on the number of heating systems to be installed, the opportunity for learning and the number of homes not supplied by mains gas.
The bids were evaluated by a panel of experts including Scottish and Welsh Government, Energy Saving Trust and DECC representatives.
The original fund was increased from £3 million to £4 million due to the large number of suitable competition entries.
Renewable Heat Premium Payment scheme for householders
The £4 million is part of the £15million Renewable Heat Premium Payment budget. Under this scheme householders can apply for support for a range of different green heating technologies including biomass boilers, solar thermal panels and ground and air source heat pumps. Many householders around the country have been taking advantage of this scheme since its launch in August. The vouchers are being issued on a first come first served basis by the Energy Saving Trust and the scheme is due to close on 31 March next year. Up to 31 October 2011, 2902 vouchers had been allocated and there are plenty more up for grabs.
Within England, the South West region has claimed the most vouchers with 558 issued so far. Heat pump technology is proving the most popular in England and Wales whilst biomass boilers are preferred in Scotland. There are a range of other green heating technologies supported under this scheme.
Anyone interested in getting involved should contact the Energy Saving Trust on 0800 512 012 to find out which technology would suit them best and how to apply.
---
Notes for editors
The current list of confirmed social landlord winners can be found in the table below. Further winners will be confirmed shortly.
Successful bidder Region
Aspire Housing
Sanctuary Housing Association
West Midlands
Hastoe Housing Association
New Linx Housing Trust - Project 1
New Linx Housing Trust - Project 2
South Derbyshire District Council
East Midlands
Chevin Housing Association
City of York Council
Yorkshire and Humberside
City West Housing Trust
New Charter Housing Trust Ltd
Wulvern Housing Ltd
North West
Northumberland County Council
South Tyneside Homes
North East
Coastline Housing Ltd South West
Hanover Housing Association
Winchester City Council
South East
Colchester Borough Council
Mid Suffolk District Council
Wherry Housing Association
East of England
Castle Rock Edinvar
Hebridean Housing Partnership
Dumfries and Galloway Housing Partnership
Scotland
Cymdeithas Tai Eryri
Monmouthshire Housing Association
Wales
The graph below shows current uptake of vouchers from households under the Renewable Heat Premium Payment scheme up to 31 October 2011.
Currently half of the UK's carbon emissions come from the energy used to generate heat. The Government's renewable heat financial support mechanisms will provide average savings between now and 2020 of 4.4 million tonnes of carbon per year, equivalent to the annual carbon emissions of two typical new gas power stations.

Bidders under the social landlord competition were restricted to Registered Providers of Social Housing and the competition was open to applications in Scotland, England and Wales between 15 August and 15 September 2011.

The assessment panel for the social landlord competition was made up of representatives from DECC, the Energy Saving Trust and the devolved administrations.

Social landlords taking part in the scheme need to agree to provide sufficient information to be compatible with European state aid legislation. The maximum amount that could be bid for under these rules is €200,000 (this currently equates to around £175,000).

The Renewable Heat Premium Payment voucher scheme for householders was launched in August this year.

Eligible technologies include biomass boilers, solar thermal panels, ground source heat pumps, air to water source heat pumps and water to water source heat pumps.

More information about the Renewable Heat Premium Payment scheme can be found on the Energy Saving Trust website
Published 17 November 2011