Wiltshire military wives to get £1.9 million boost for jobs and rural growth
More than 200 jobs are expected to be created and 450 businesses supported in Wiltshire's military towns following a £1.9 million Government…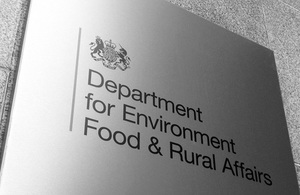 More than 200 jobs are expected to be created and 450 businesses supported in Wiltshire's military towns following a £1.9 million Government investment in the region's rural economy, Defra Minister Richard Benyon announced on his Rural Roadshow to the region today.
Wiltshire is one of five regions selected for a Rural Growth Network grant to help rural areas overcome the barriers to economic growth, such as shortage of business opportunities and poor broadband access.
This Rural Growth Network is unique among the pilot projects for its military focus - boosting the job prospects of the partners of servicemen and women based in the 'garrison towns' of Ludgershall, Tidworth, Amesbury, Bulford and Durrington.  The project will help to identify the best ways to create business opportunities at other rural garrisons across the country.
Richard Benyon said;
"It should be as easy to run successful businesses in a rural area as in a town, but in the past problems like a lack of work premises and poor access to skills training have held rural entrepreneurs back - and it's often harder still if your partner is in the army.
"This project will tackle these barriers to economic growth, giving spouses of serving military personnel and those leaving the forces more job opportunities and the support and workspace they need to set up their own businesses."
Defra Rural Roadshows allow ministers to hear first-hand about rural issues from communities and businesses, to learn about successes and challenges and discover what help is needed to support rural growth and jobs.
Mr Benyon is visiting the Castledown Business Centre in Ludgershall, which will be transformed by the new Rural Growth Network into 40 new work premises where entrepreneurs will have space to start companies and jobs will be created as local businesses get the support they need.
This is just one of the Rural Growth Network's four enterprise hubs planned for Wiltshire, all of which will deliver business support, networking opportunities, dedicated mentoring and new, high quality workspace.  The three other enterprise hubs are in Trowbridge, Royal Wootton Bassett and Salisbury.
Funding for Wiltshire's Rural Growth Network is just one part of the Government's investment in rural economic growth that has been set out by Environment Secretary Owen Paterson in the Rural Statement today.  As England's first 'rural contract', the Rural Statement invites people in rural areas to hold the Government to account on its promise to grow the rural economy and support thriving rural communities.
Mr Benyon continued:
"My Rural Roadshow to Wiltshire is giving me the opportunity see firsthand how local businesses are creating new jobs , and to talk to people about what more we can do to unlock the economic potential of rural areas and support thriving rural communities."
To find out more about the benefits that better training opportunities in rural areas can bring to job prospects and the wider community, Mr Benyon will meet students at the Wellington Academy Applied Learning Centre in Tidworth. Defra invested £93,750 in this centre to provide vocational learning for young people planning technical careers.
Wiltshire Council cabinet member for economy, Fleur de Rhe-Philipe said:
"Supporting the rural economy is a priority for Wiltshire Council and its partners, and we welcome this initiative which sends a strong signal that we want to make Wiltshire a business location of choice.
"We hope this will help build confidence in the local economy at a crucial time."
Mr Benyon will also visit businesses that have received funding from Defra's Rural Development Programme to England to hear about the opportunities that have since opened up for them and the local economy. A local furniture-making business, Holgate & Pack, will show how it has been able to turn waste into profits after receiving a £18,989 grant for new equipment to process wood chippings into marketable charcoal.
Mr Benyon will then go on to visit Rural Heat, a biomass business at the Manton Estate in Marlborough, which has created four jobs since receiving a £37,120 grant from Defra. The business turns local, sustainably-sourced willow and into high-grade woodchip fuel for the biomass generators. Rural Heat will demonstrate the business opportunities in green energy and scope for job creation in the low-carbon sector.
Notes
The Rural Statement is available at: www.defra.gov.uk/rural/economy
The Rural Statement formalizes the Government's drive for rural businesses to overcome barriers to growth and make a sustainable contribution to economic recovery, setting out the initiatives that are already making progress towards this ambition, and those that will open up rural business opportunities in the near future.
These include:
• £530 million to roll out high speed broadband in rural communities, plus £20 million for the remotest areas and £150 million to improve mobile coverage
• £100 million from the Rural Development Programme for England (RDPE) to give rural businesses new opportunities to grow
• £15 million for Rural Growth Networks to address the barriers to growth that rural businesses face; expected to create 3,000 new jobs and 700 start-ups
• £25 million to promote rural tourism and supporting its businesses (includes £10 million RDPE funding)
• Loans totalling £15 million for community-owned renewable energy schemes
Published 12 September 2012