Wilton Park wins award from Diplomat Magazine
Wilton Park won the award for their "Distinguished Contribution to Diplomacy in London" from Diplomat Magazine.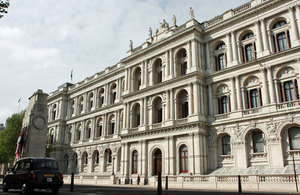 The ceremony took place in central London, and Diplomat presented 12 awards to some of the most influential diplomats based in the UK.
Wilton Park is an executive agency of the Foreign and Commonwealth Office and is a world-leading centre for discreet discussion about and resolution of global challenges. With a clear focus on issues of global strategic importance, Wilton Park organises around 50 residential events and discussions a year on subjects as varied as sustainable development; climate change and energy; human rights, democracy and governance; justice, home affairs and counter-terrorism; the global economy and defence and security.
Richard Burge, Chief Executive of Wilton Park said:
"We are all very pleased to receive this award made by some of the world's most distinguished foreign diplomats. It is testament to the significant, positive, and unique impact of Wilton Park and the UK on international affairs"
Hugo van Kuffeler from Diplomat Magazine said:
"One of the key elements for diplomats and governments to resolve conflicts is having the appropriate environment to discuss these challenges and formulate strategies for future policies and actions. Wilton Park is a forum for democracy building, post-conflict reconciliation and international dialogue which are crucial for progress on global issues.
"Its aim was and is to unite people: to bring together those who disagree, often violently, by patient, outspoken discussion of their conflicting views and assumptions, to reconcile rivals and enemies in recognition of their common humanity, their shared problems and their joint hopes of peace.
Published 17 May 2011