Wilton Park dialogues' podcast launched
Wilton Park, one of the FCO's executive agencies, has launched a podcast series featuring prominent speakers from their conferences on key international policy challenges.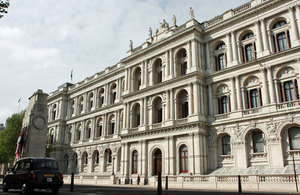 Wilton Park dialogues' will aim to reflect the diverse strategic and generic programmes in the UK and beyond. All of the participants engaging in the podcast are passionate about exchanging 'best practice' and are striving to innovate creative approaches around their future work.
These informally distilled conversations will share a snapshot with listeners about the complexities covered at Wilton Park.
Richard Burge, Chief Executive at Wilton Park, said "We aim to open up the issues in an entertaining, engaging and informative way for curious minds across the world".
The first episode in the series explores what and who is involved in cyber security, and the wider implications for the governance and control of cyber-space.
The episode features Richard Burge in dialogue with representatives from the University of Oxford, the Co-operative Cyber Defence Centre of Excellence in Tallinn, and the National War College in Washington DC.
Published 27 October 2010