Press release
William Hague concerned over deaths of Palestinians in the West Bank
William Hague urges parties to avoid actions that could exacerbate tensions.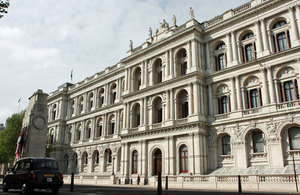 The Foreign Secretary William Hague said:
I remain deeply concerned by the abduction of three Israeli youths in the West Bank. I appeal to those who are able to bring about the release of the Israeli youths to take urgent action to do so.
In my statement of 15 June, I said I hoped that escalation could be avoided. Any death in conflict is regrettable. I was therefore deeply concerned to hear of the death of two Palestinians in the West Bank over the weekend, in addition to three deaths last week, tragically including children. It is vital that all security operations are conducted with due care and proportionate use of force.
For the sake of the Israeli and Palestinian people, I urge all parties to avoid any actions which could further exacerbate current tensions.
Further information
Follow the Foreign Secretary on Facebook and on Twitter: @WilliamJHague.
Follow the Foreign Office on Twitter.
Follow the Foreign Office on Facebook & Google+.
Published 23 June 2014