Press release
Widespread support for greater rail devolution
Consultation responses reveal widespread support for rail devolution.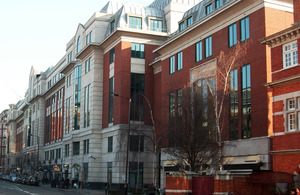 Passengers and local communities could achieve better rail services and value for money for taxpayers if they have more say on how their railways are run, according to responses to a government consultation.
The feedback published today (27 November 2012) also reveals widespread support for rail devolution. The consultation asked individuals, regional groups and interested organisations to give their views on how devolution might work and what the benefits were.
Rail Minister Simon Burns said:
We are determined to provide the best possible rail services for passengers and ensure that we reduce the cost of running our railways.

Ensuring decisions are taken by those best placed to make them – those who live and work in those areas – could make certain not only that services are planned to maximise value for money for taxpayers but that passengers get services they need and want.
The consultation also revealed enthusiastic expressions of interest in helping to manage the railways from regional groups in London, the West Midlands and the north of England.
Responses highlighted the success of regions where the operation of rail services has already been devolved, including:
Merseyside, where Merseytravel has been responsible for the management of rail services since 2003
London, where Transport for London has been responsible for the operation of London Overground services since 2007
Scotland and Wales, where the operation of regional services is managed by the Scottish government and the Welsh Assembly government
Responses also showed support for transport models specifically designed for particular regions on the basis of local geography and the structure of local networks.
Notes to editors
A consultation document, 'Rail decentralisation', was published on 8 March 2012. Comments were invited by the end of June 2012.
The Department for Transport's response to the rail decentralisation consultation is available.
The government remains committed to seeking to implement an appropriate form of decentralisation in those parts of England where it is sensible to do so. Following the responses to the consultation, DfT will continue informal discussions with those bodies who have submitted proposals or firm expressions of interest. It will consider further a number of issues that need to be resolved in order to proceed with any decentralisation agreement, subject to any changes to franchising policy which may emerge from the Brown review of the rail franchising programme.
Most train services are specified, procured and funded centrally by the Department for Transport in London. A public consultation has shown broad support for devolving greater responsibility for local rail services to local authorities, Passenger Transport Executives (PTEs) and Transport for London, where conditions are right.
Proposals for decentralisation have been received from the Rail in the North consortium comprising Transport for Greater Manchester, West Yorkshire PTE with York City Council and South Yorkshire PTE; Centro and Transport for London.
Expressions of interest have been received from West of England Partnership (the Greater Bristol area), Devon and Cornwall Councils, Merseytravel, the Association of North East Councils and Cumbria County Council.
It is envisaged that interested bodies will be ready to submit formal proposals in the first half of next year. In the meantime, the Department for Transport will continue informal discussions with these bodies as they prepare and consult on their formal proposal
Around 70% of respondents to the consultation said they supported devolution of powers to manage the railways to regional bodies
Rail media enquiries
Media enquiries 020 7944 3021
Out of hours media enquiries 020 7944 4292
Switchboard 0300 330 3000
Published 27 November 2012