Whitehall internships open the corridors of power to 60 youngsters
60 talented 16-18-year-olds from underrepresented backgrounds will have the opportunity to do work experience in government departments.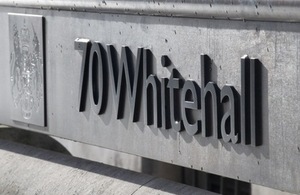 13 August 2012
Today the corridors of power are once again opened up to budding Year 12 students as they begin a two week internship in Whitehall. For the second year running 60 talented 16-18-year-olds from underrepresented backgrounds will have the opportunity to experience working in government departments such as the Treasury, the Department for Energy and Climate Change, the Cabinet Office and the Foreign Office.
Interns come from across the country and were chosen from more than 130 high quality applications from eligible students.
Speaking ahead of the start of the programme, Minister without Portfolio Baroness Warsi, said:
It is vital that we do our bit in government to give students from all backgrounds the opportunity to explore areas of work they previously thought weren't open to them. In the past many young people missed out on work experience opportunities simply because they lacked the necessary contacts or faced significant financial burdens. Offering fully funded internships is a great way to start addressing that.

I hope that the two week Whitehall internship will give the students a real insight into working in government and the confidence to believe that anything is possible.
Head of the Civil Service Sir Bob Kerslake said:
The civil service will only retain its status as a world leader if it recruits the very best talent that's out there. The civil service should reflect the society it serves and for that reason diversity is important. We've made real inroads over the last few years but we can and must do more. I hope the students embarking on this year's internship will find it a useful, engaging and eye opening experience, and that for some it will mark the start of a long and fruitful career.
The college level internship programme for students from underrepresented socio-economic backgrounds was piloted last summer, with nine in ten of those taking part saying it had met or exceeded their expectations. Interns are allocated a placement in a government department where they will undertake meaningful work and have the opportunity to meet Ministers, Senior Civil Servants and network with other interns on the programme.
The internship programme is being delivered in partnership with the Social Mobility Foundation which is also responsible for developing a complementary programme of evening activities.
The head of the Social Mobility Foundation, David Johnston, said:
We are delighted to be working on this important project. It is vital that the country's most prestigious institutions are open to everyone talented enough to work within them, and it is great that government is taking a lead in opening up to high-achieving young people with the ability to work for it, but who otherwise might not get the opportunity without an initiative like this.
Notes to editors
The programme is a fully funded residential placement which aims to:
promote social mobility;
increase Civil Service diversity by targeting under-represented groups;
raise career aspirations and increase awareness of the Civil Service as an employer's choice;
provide skills and experiences that can be harnessed in the search of, or during, future employment.
The Social Mobility Foundation (SMF) is a registered charity, with the objective of making a real improvement in social mobility for bright young people from lower-income backgrounds. The SMF was founded in 2006 and has since worked with thousands of students from across England.
Published 13 August 2012