Whitehall flies flag with pride for first time
The iconic rainbow flag symbolising gay pride was flown for the first time on Whitehall today.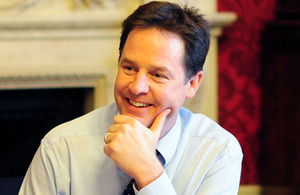 The Deputy Prime Minister, Nick Clegg, made the request for the flag to be flown on the Cabinet Office building on Friday and Saturday in honour of the gay pride event being held in London this weekend.
As a first for central government, the Deputy Prime Minister felt that it was about time Whitehall brought itself up to date and showed support for the LGBT community. This follows his support for equal marriage and the recent consultation on the issue.
Deputy Prime Minister Nick Clegg said:
There has to be a first time for everything - flying this iconic flag in the heart of Whitehall is a small but important emblem that the Government and this country are behind equal rights. I'm absolutely delighted that, with a little bit of persuasion and determination, we've been able to fly the rainbow flag for this weekend's festivities. I hope this is the start of a new era of pride across the historic Whitehall village.
The flag symbolises Lesbian, Gay, Bisexual and Transgender pride, and reflects the diversity of the LGBT community with its red, orange, yellow, green, blue and violet horizontal stripes.
Designed in San Francisco in 1978 by Gilbert Baker, the original flag had eight stripes instead of today's six.
Published 6 July 2012