News story
Whitehall exceeds Prime Minister's 10% carbon target
Central government has exceeded it's target to reduce carbon emissions by 10% by achieving a 13.8% reduction in 12 months.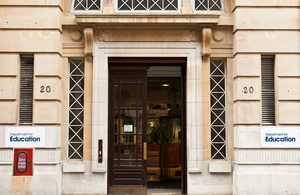 On 14 May 2010, the Prime Minister committed central government to reducing its carbon emissions by 10% within 12 months. Cabinet Office and the Department for Energy and Climate Change (DECC) announced today that the Government has achieved this target, saving a total of 13.8%. Never before has central government achieved this level of reduction in such a short space of time.
The 10% target spanned 3,000 central government office buildings – everything from Whitehall headquarters to Jobcentre Plus Offices, HM Courts and Driving Test Centres. Over 300,000 civil servants played their part, and many made a personal contribution by changing their own behaviour, for example turning off lights and equipment when not needed. A short film with interviews with ministers, senior officials and teams in departments is available on the Number 10 website.
Building on this success, the Prime Minister announced a new target to reduce emissions by 25 per cent by 2015. This new target will cover a wider scope of the government estate, a wider scope of greenhouse gases (not just CO2), and include business-related transport emissions.
The Department for Education was able to achieve the highest percentage reduction in CO2 of all central government departments and finished top of the league table with an annual reduction of 21.5%.
This fantastic achievement was facilitated by 2 estate rationalisation moves that took place during the 10% reduction period, namely the Training and Development Agency's move to Piccadilly Gate in Manchester and the move to 2 St Paul's Place in Sheffield. The fruition of savings from investments in back of house plant and machinery also contributed to a total reduction of over 2000 tonnes of CO2 from the Department's carbon footprint in 12 months. The achievement also had a reciprocal financial benefit with over a 25%t reduction in the Department's utility spend (some £447,000).
Never one to rest on its laurels, the Department will now focus attention on achievement of the Greening Government Commitments, which include a wider scope of carbon emissions reducations (including all travel), challenging water targets and waste reduction targets. Full details of the commitments can be found on Defra's website.
Published 25 January 2013