What the EU needs to do to remain competitive
Minister for Europe David Lidington has welcomed the publication of a report by British business leaders on priorities for ensuring a strong and competitive EU economy.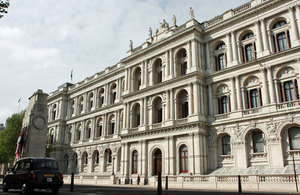 The Minister for Europe David Lidington today attended the launch of Business for New Europe's new publication, Competitiveness: What the EU needs to do at Aviva plc. The publication includes essays from business leaders and identifies priorities for securing economic growth in the EU: completing the single market, supporting innovation, reducing the burdens of regulation and opening Europe for trade.
Contributors to the report include Sir Roger Carr, Chairman of Centrica, Roland Rudd, Chairman of BNE, Andrew Moss, CEO of Aviva, Vittorio Colao, CEO of Vodafone, Dr Chris Gibson-Smith, Chairman of the London Stock Exchange, and other leading business figures.
In his foreword to the report, Minister for Europe David Lidington calls for governments and businesses across Europe to work together to drive greater innovation and enterprise across the EU:
"We have the ideas, industry and drive to return Europe to strong economic growth. Combining these assets with an open and liberal outlook provides the surest way for Europe to prosper…We know what needs to be done. The challenge now is to make it happen."
At the launch of the report David Lidington said, "I am delighted to welcome this publication from Business for New Europe. It shows that the UK's business leaders are thinking about what is needed for a strong and competitive European Union economy. I firmly believe that together we can ensure future economic success for all Europe's citizens."
The report by Business for New Europe follows the Prime Minister's recent pamphlet Let's Choose Growth which makes the case for completing the Single Market to boost growth, and sets out the risks to Europe if it allows itself to fall behind other leading economies.
Published 17 June 2011