News story
What Budget 2014 means for Wales
David Jones writes for the Western Mail on what the Chancellor's Budget means for Wales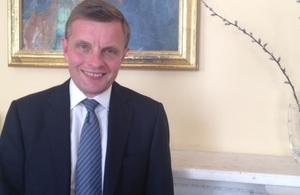 This week, the Chancellor announced a Budget that lays the foundations for our long-term economic security, that supports the aspirations of hardworking people, and supports a Britain that invests, manufactures and exports.
It was a Budget focussed on fairness and growth to help ensure that the United Kingdom remains on track to reduce the deficit and stabilise the economy.
Supporting business, creating jobs and getting people into employment are central to building a stronger, more competitive economy.
That is why we are supporting our key industries with a plan for the future.
Through the measures announced in the Business Energy Package, this Government is radically reducing the costs of energy policy for business, particularly for manufacturing. Collectively, the Energy Intensive Industries currently being compensated in Wales will benefit from this package by around £240million between 2016-17 and 2018-19. This package will improve incentives for companies to return their manufacturing to Britain, and will help our existing firms, such as those in the steel industry, to compete in the global race.
Enterprise Zones in Ebbw Vale, Deeside and Haven Waterway will benefit from the three-year extension of the period in which enhanced capital allowances are available to companies looking to invest in these zones.
In light of the measures announced yesterday, we have been able to increase the Welsh Government's budgets by £36million over two years. This will bring the total additional capital passed to the Welsh Government over this spending review period to £924 million. This, together with the package of tax and borrowing powers we will be devolving through the Wales Bill, which I am introducing today, will give the Welsh Government the tools to play its own part in growing the Welsh economy and to make improvements to the M4.
Announcements contained in the Budget statement will also benefit families across Wales by encouraging aspiration and helping with the cost of living.
The increase in the income tax personal allowance to £10,500 will see an additional 14,000 people lifted out of income tax. Because of actions taken by this Government, a total of 155,000 people in Wales will have been taken out of income tax altogether.
Restoring the value of the minimum wage is a vital part of how we secure a recovery for all with economic security for every working family in Wales. That is why have announced that the national minimum wage will increase by 3%, meaning that that low-paid workers will enjoy the biggest cash increase in their take-home pay since 2008.
The Government is also helping families by making childcare more affordable. This week, we announced plans to offer up to £2,000 in subsidised childcare to working families right across Britain after the next general election.
The freeze on vehicle excise duty from April this year and fuel duty will also be welcomed by the 1.5million car owners in Wales.
We have announced radical reforms to give people greater freedom over how they access their pension savings, and to support savers at every stage of their lives.
Our hard work is paying off and Wales is now on the path to prosperity. But this was not a Budget where we can say that we are resting on our laurels and saying "job done".
We have a long term economic plan to secure Britain's future: to cut the deficit, to cut taxes, to support businesses and to create more jobs. To abandon the plan will would be to abandon the progress we have made. By sticking to the plan, we will ensure a better and more financially secure future for Wales, its hardworking people and their families.
Notes
The article was published on Page 2 of the Western Mail on Thursday 20 March 2014.
Published 21 March 2014