World news story
WFD, the House of Councillors and University Mohammed V sign a partnership convention
The signing of the partnership convention marks the launch of a new fellowship programme.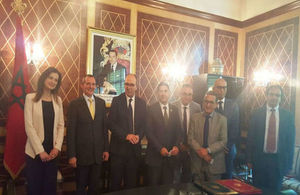 On 28 September 2017, the Westminster Foundation for Democracy (WFD) signed a partnership convention with the Moroccan House of Councillors and University Mohammed V. This important event marks the launch of the new fellowship programme, which will strengthen the capability of the House of Councillors in responding to policy challenges and legislation drafting.
The fellowship will provide 38 talented PhD students with a unique opportunity to be exposed to the work undertaken by the House of Councillors and contribute to supporting the House in fulfilling two of its main duties: scrutinising government legislation and initiating new laws.
The Fellowship is part of a larger programme that the UK has been supporting since its inception six years ago.
The British Embassy in Morocco works with the WFD to support both houses of the Moroccan Parliament in a number of areas including:
Communication and engagement with citizens
Capacity building for MPs including women, youth and staff
Policy and accountability work and
Legislative drafting
Published 29 September 2017