Westminster City Council signs Armed Forces Community Covenant
Westminster City Council has become the latest local authority to sign the Armed Forces Community Covenant.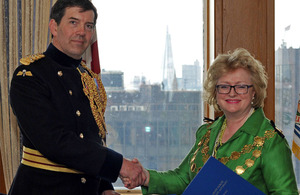 The signing of the Community Covenant, the aim of which is to encourage local communities to support the Service personnel in their area and promote understanding and awareness amongst the public of issues affecting the Armed Forces, took place on Tuesday 26 June after an Armed Forces Day flag was raised on the roof of City Hall to mark the start of Armed Forces Week.
The Lord Mayor of Westminster, Councillor Angela Harvey, and the Leader of Westminster City Council, Councillor Philippa Roe, raised the Armed Forces Day flag with Lieutenant Colonel Tim Jalland, Commanding Officer of the London Central Garrison.
The Armed Forces Community Covenant was signed by the council and its business, property and voluntary sector partners.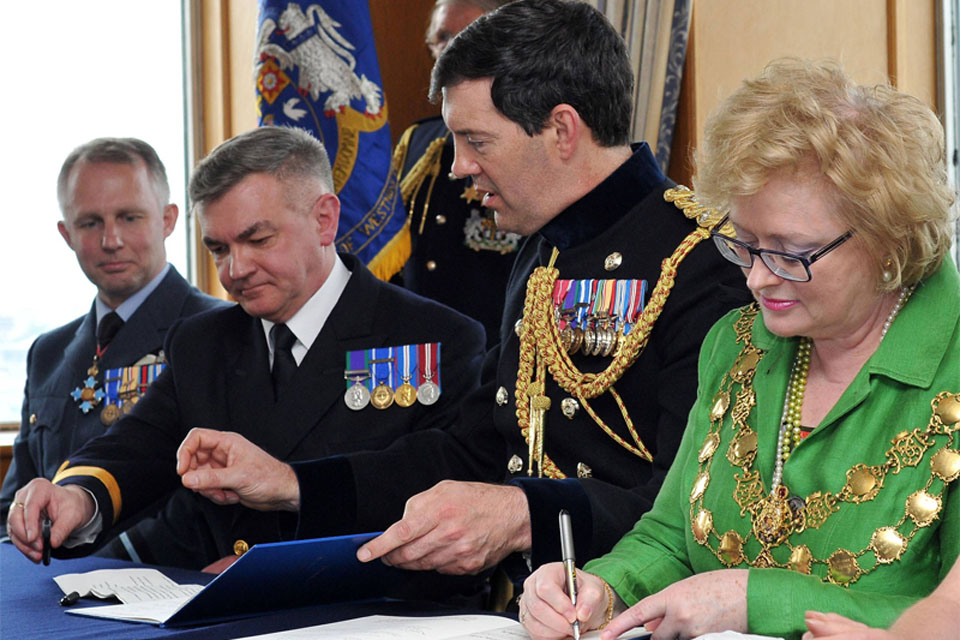 Speaking at the ceremony, Councillor Harvey said:
The City of Westminster acknowledges the crucial role played by the members of Her Majesty's Armed Forces; they are an integral part of Britain.
I am delighted that the council fully supports Armed Forces Week; in flying the flag at City Hall and signing the Military Covenant, we recognise the important contribution our Armed Services make.
Deputy Commander of the Army's London District, Brigadier Matthew Lowe, said:
The signing of the Armed Forces Community Covenant demonstrates Westminster's commitment to helping members of the Armed Forces and their dependants in recognition of the unique demands of military life. The Armed Forces are very grateful for this show of support.
Following the signing, local groups and individuals can now apply for a Community Covenant Grant to help support initiatives that will make a positive difference to the lives of Service personnel and their families locally.
The presence of soldiers, sailors and airmen at flag-raising ceremonies across the capital this week is a sign of the Armed Forces' enduring relationship with the people of London.
Published 28 June 2012