Press release
West Midlands apprentice named the McDonald's Intermediate Apprentice of the Year
Kathleen Sandford from Stourport-on-Severn, Worcestershire, wins National Apprenticeship Award at an exclusive ceremony at London's Grosvenor House.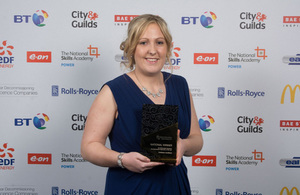 Kathleen, aged 20, learning and development administrator with the Community Housing Group, fought off competition from hundreds of other apprentices around England to be awarded the top prize.
The awards, now in their twelfth year, are run by the National Apprenticeship Service and recognise excellence in two areas: businesses that grow their own talent with apprentices and apprentices who have made a significant contribution to their workplaces.
Skills Minister Nick Boles said:
Congratulations to Kathleen for your success at the National Apprenticeship Awards. Apprenticeships truly are set to be one of the great success stories of the decade, and Kathleen is a worthy ambassador.

We are committed to 3 million apprenticeships by 2020 so that even more young people can follow Kathleen's lead and reap the benefits of apprenticeships.
Employment Minister Priti Patel said:
I would like to extend my warmest congratulations to Kathleen for her fantastic achievement in being named the McDonald's Intermediate Apprentice of the Year at the National Apprenticeship Awards.

Apprenticeships offer a fantastic way for many young people of all backgrounds to earn as they learn while providing employers with the transferable skills needed to take their business from strength to strength. We currently have record-breaking levels of employment – and this is boosted by prospects like apprenticeships. I want to see this continue.

By working closely with businesses and taking steps like rolling out our 'Jobcentre Plus Support for Schools' programme to teach pupils about work experience, apprenticeships and traineeships, we are helping to create an even more flexible and resilient labour market for the future.
Kathleen was chosen as the winner in recognition of the outstanding contribution she has made to company since joining as an apprentice in 2013.
From day one it was clear that Kathleen was far more competent than expected for someone so young with little experience. She has become a valued colleague that people go to for help and support. What she truly brings to the team is immeasurable, constantly challenging colleagues to think in a different way and helping improve the service. She now runs all of the company's social media sites.
On accepting the award, Kathleen said:
During Sixth Form, lacking motivation and any direction, I didnt want to attend university and felt I was stuck for options. Thats when I discovered apprenticeships. I knew immediately this was the route for me.

As my knowledge and skills have grown, I`ve been given more responsibility within the department. I am now in charge of all Care and Support training, designing marketing materials, photography and running social media accounts.

When I started my apprenticeship I was 17 and fresh out of sixth form. Over the past 2 years I have achieved more than I could have ever imagined. The stand out moment for me over the past two years is having photographs Ive taken and adverts Ive designed in the local press. The thing I am most proud of is the feeling of having made a difference within my team.

I am proud of my journey to date. I believe and have seen the positive effect an apprenticeship can have on someones life. Just because you dont go to university, it doesnt mean you wont succeed. I will carry on spreading this important message to inspire and motivate others.
Nadhim Zahawi, the Prime Minister's Apprenticeship Adviser, who presented the awards, said:
The Prime Minister is committed to 3 million apprenticeship starts by 2020 and I am excited to have a role in helping to deliver this goal, while pushing to revolutionise the skills of our workforce in Britain. Good quality apprenticeships create a fairer society by giving hard working young people the chance to aim for their dream job whilst playing their part in building a stronger economy for Britain.

There are many examples of excellent apprenticeship and apprentices in England and these winners are the best of the best. I congratulate Kathleen on her success. It's an honour to have been part of these awards; to play a small part in recognising the effort of so many great businesses and to reward apprentices for their hard work and dedication. All this year's winners should shout from the rooftops about what taking an apprenticeship has done for them or what hiring an apprentice has done for their business. I am determined that apprenticeships should be given the recognition they deserve, because they absolutely do deserve it.
Lesley Roberts, National Education Manager from McDonald's, said:
We are delighted to be sponsoring the Intermediate Apprentice of the Year Award. The National Apprenticeship Awards showcase and recognise the many benefits apprenticeships bring to individuals and businesses and inspire others to follow, enabling them to lead successful lives and drive economic growth.

The McDonald's Apprenticeship Programme helps our employees to develop new and relevant skills, gain knowledge about our industry and progress through our career path.
To view the full list of award winners and finalists or for more information about apprenticeships, search on GOV.UK.
About the National Apprenticeship Awards
The National Apprenticeship Service challenged the nation's top apprenticeship employers and apprentices to come forward and show how apprenticeships have made a real difference to them. Now in their twelfth year, the National Apprenticeship Awards are an opportunity to highlight the many success stories and the benefits of Apprenticeships.
There are six employer categories ranging from Small to Macro, and two newcomer categories – large and SME. Categories are open to employers of all sectors.
For the fifth year running the very best employer category entries will have the additional bonus of featuring in the prestigious annual Top 100 Apprenticeship Employers list.
There are four apprentice categories, which are: intermediate, advanced and higher apprentice of the year, and the hotly contended apprenticeship champion of the year.
The National Apprenticeship Service
The National Apprenticeship Service supports the delivery of apprenticeships and traineeships in England. It offers free impartial advice and support to employers looking to recruit for the first time or expand their programme. This includes simplifying the process of recruiting an apprentice or trainee through the support of employer focused teams and Find an apprenticeship and Find a traineeship recruitment sites on GOV.UK where employers can advertise their vacancies and potential apprentices or trainees can apply.
Call 08000 150 600 or search for apprenticeships on GOV.UK to find out more.
Published 29 January 2016