News story
National Apprenticeship Awards 2017 national finalists announced
30 national finalists have been announced today for the 2017 National Apprenticeship Awards.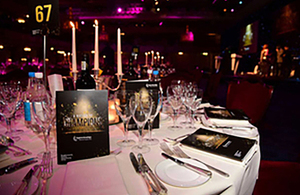 Employers and individuals have beaten off tough competition to be named a national finalist and on 18 January 2018, one from each category will win a National Apprenticeship Award, with highly commended finalists also being recognised on the night.
Now in their 14th year, the National Apprenticeship Awards demonstrate how employers can grow their own talent by offering apprenticeships and how apprentices are making a significant contribution to their workplace.
Successful National Apprenticeship Awards 2017 national finalists have been announced in the following categories:
The Unilever Award for Intermediate Apprentice of the Year 2017
Shannon Green, Althams Travel Services Ltd
Matthew Gustard, Nottingham City Homes Limited
Ross Jasper, DCH
The PeoplePlus Award for Advanced Apprentice of the Year 2017
Heeran Basi, Severn Trent Water Ltd
Hannah Magowan, Dale Power Solutions
Megan Whitbread, Troup Bywaters & Anders
The Nuclear Decommissioning Site Licence Companies Award for Higher or Degree Apprentice of the Year 2017
Christopher Achiampong, IBM
Charlotte Hughes, GlaxoSmithKline
Thomas Sherlock, IBM
The Santander Award for Apprenticeship Champion of the Year 2017
Sarah Barley, South Hunsley School
Julie Honour-Jones, Sir John Lawes School
Lois McClure, The Co-op
The Troup Bywaters + Anders Award for Small Employer of the Year 2017
Beauty Oasis Spa
Ginger Nut Media
McCarrick Construction
The Royal Navy Award for Medium Employer of the Year 2017
Invotra Limited
Maycast-Nokes Precision Engineering Ltd
Superior Seals Ltd
The British Army Award for Large Employer of the Year 2017
Dale Power Solutions Ltd
Home Group
Volvo Group UK and Eire
The Open University Award for Macro Employer of the Year 2017
BBC
Lloyds Banking Group
Royal Air Force
The BAE Systems Award for Newcomer SME of the Year 2017
Blue Logic
Bury St Edmunds Canine Creche
Lander Automotive Ltd
The Rolls-Royce Award for Newcomer Large Employer of the Year 2017
Magnet
NHS Blood and Transplant (NHSBT)
YBS Group (Yorkshire Building Society)
Also to be announced at the national ceremony will be the Top 100 Apprenticeship Employers list 2017, sponsored by Centrica. It features the most exceptional apprenticeship employers from all of the National Apprenticeship Awards employer categories and shows the breadth of employers offering fantastic apprenticeship opportunities.
Sue Husband, Director of the National Apprenticeship Service said:
Announcing award finalists means we are another step closer to the national final and finding out who has a truly bright future ahead of them. Successful finalists all have fantastic stories to tell and their apprenticeship journey – be it as apprentices,employers or those indivduals who go above and beyond to champion apprenticeships – is something I personally look forward to finding out more about and to hear how apprenticeships have benefitted them.

I congratulate everyone who has been named a national finalist today and whatever the outcome on the night, each finalist deserves a huge pat on the back for committing to and delivering successful apprenticeships.

Best of luck to all finalists and thanks once again to our generous sponsors for supporting the 2017 awards.
To find out more about the apprenticeship awards visit GOV.UK.
Published 1 December 2017