Press release
West Country cheese tickles European tastebuds (Archived)
£330 million of UK cheese exports headed to the EU market in 2015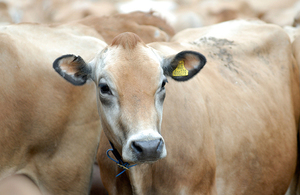 From traditional cheddar to Somerset brie, Europe's food connoisseurs can't get enough of our cheese, with £330 million of UK cheese exports going to the EU market in 2015, and export volumes increasing by 8 per cent since 2010, Environment Secretary Elizabeth Truss said today.
Visiting Somerset's Wyke Farms, the Environment Secretary hailed the success of British cheese exports, three-quarters of which went to Europe last year. France alone bought £59 million of British cheese, which is gaining a growing reputation across the continent for its quality and taste.
Demand for Wyke's award-winning cheddar is growing rapidly in France, with sales up by 30 per cent last year.
Last year 60 per cent of all its exports went to the EU, with top customers being France, Spain and Czech Republic.
Outside the EU, cheese producers like Wyke Farms could face crippling tariffs of up to 30 per cent to sell their produce to Europe, costing an additional £169million per year and meaning EU consumers would pay much higher prices for our cheese.
Speaking as she visited Wyke Farms' dairy, Environment Secretary Elizabeth Truss said:
With a huge £330 million of cheese exports going to Europe it's clear Somerset dairy farmers and producers are stronger, safer and better off as part of a reformed EU.

Wyke Farms is a prime example of a farm business taking advantage of our tariff-free access to the world's largest single market of 500 million customers to export their high-quality produce.
Having launched a new British-themed brand to specifically target their export customers, Wyke Farms values the fact that wherever they sell their produce in the EU, the label requirements are exactly the same. If we were to leave the EU, our businesses could face re-labelling costs around £3,000 for each product line they export to the EU.
Based in the centre of the cheddar-making region in Somerset, Wyke Farms sources its milk from its own herd which grazes the Mendip Hills, as well as directly from 150 other farms, and employs 250 people, making this 150-year-old family business a crucial part of the rural economy.
Richard Clothier, MD of Wyke Farms, said:
My family have been farming here in Somerset for over 150 years and I'm immensely proud of how we have thrived in recent years as we've been able to sell Somerset produce all over the continent. We've worked hard to build our European export business and now have relationships with many European businesses such as Carrefour.

Leaving the EU puts our free market trade at risk; the current arrangement gives us access to a market more than twice the size of the US and the ability to trade within it under just one set of regulations. Changing this would be disabling for business, not empowering. We have an ambitious five-year growth plan for our business and leaving Europe in the coming years will jeopardise that.
Cheese manufacturers in the South West also benefit from EU Protected Food Name status for West Country Farmhouse Cheddar. By meeting specific criteria, cheddar from the region can carry the resulting logo, helping to distinguish our high-quality produce in a competitive market.
New figures from HMRC recently revealed the UK exports far more cheese to France than to the US, despite the US population being nearly five times larger—in 2015, cheese exports to France were worth £59.5m compared to £45.6m to the US. Last year, our exports to Ireland alone—our top EU market—were worth £74.7m, more than our exports to the USA, Canada, UAE, South Africa, Australia and China combined.
Published 28 April 2016