Press release
West Coast Main Line: Laidlaw Inquiry interim findings
The initial findings report from the independent inquiry into DfT's handling of the franchise competition to run the West Coast Main Line.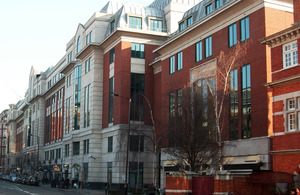 The independent inquiry into the Department for Transport's handling of the franchise competition to run the West Coast Main Line has submitted an initial findings report to Transport Secretary Patrick McLoughlin.
In the interests of transparency, Mr McLoughlin has today published that report, alongside a covering letter, and this afternoon delivered an update to Parliament about this report and wider progress on ensuring continuity of service on the West Coast Main Line.
Sam Laidlaw, the senior business figure and DfT non-executive director leading this independent review, has asked the DfT to release the following statement on behalf of his inquiry:
In the limited time available this is necessarily only a preliminary report. What is clear however is that in seeking to run a complex and novel franchising competition process, an accumulation of significant errors, described in the report, resulted in a flawed process.

These errors appear to have been caused by factors including inadequate planning and preparation, a complex organisational structure and a weak governance and quality assurance framework. The full causes and the lessons to be learnt will be addressed in the final report of my independent Inquiry to be published at the end of November.

Firm judgments should not be made based upon what are provisional findings or wider conclusions drawn at this stage.
Notes to editors
The Laidlaw Inquiry interim findings and Mr Laidlaw's covering letter to the Transport Secretary are available on the DfT website.
The Transport Secretary's oral statement to the House of Commons of this afternoon is available on the DfT website.
Press enquiries to the Laidlaw Inquiry team: 020 7922 2402.
Press enquiries to the Department for Transport press office: 020 7944 3108
Out of hours: 020 7944 4292
Public enquiries: 0300 330 3000
Published 29 October 2012